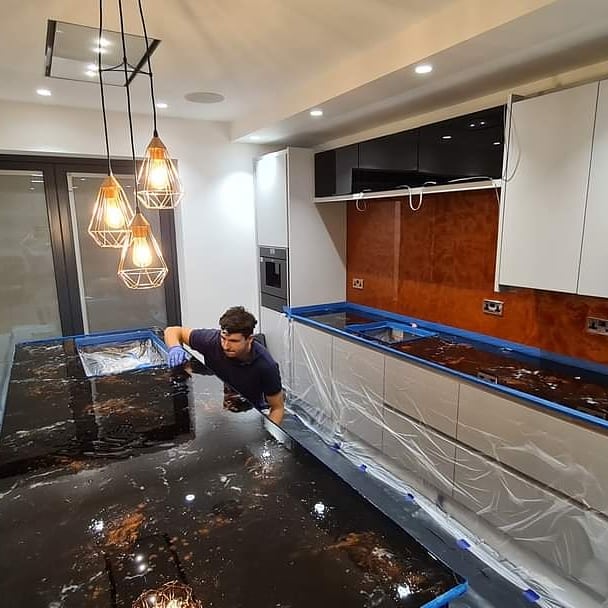 The Problem
A nice blank canvas to work from, a great space to fill with a modern style kitchen, and a customer with a passion for statement pieces and breaking away from the norm, allowing our designer to create some unique pieces to give both a practical use with an amazing contemporary look with these Epoxy resin worktops and splashbacks in Dartford.
Our Solution
After listening to the client's vision, we arranged for a consultation with the designer and fitter, and once agreed the colour and design style preference our talented designer along with his team looked firstly to install the kitchen units, ensuring all perfectly level. The worktops and splashbacks were then templated to ensure a perfect fit. Templates for the splashbacks were then taken to the workshop where the copper design was created, with 3mm of top-quality epoxy resin on a 9mm base board. The epoxy resin splashbacks were then installed, and work began on creating the epoxy resin worktops, priming the base first, then creating the unique design using many mastered techniques perfected over the years. The following day returning to cover with a gloss sealer coat for protection and then allowed to dry in a dust free environment. Feedback from these epoxy resin worktops and splashbacks in Dartford has been overwhelming, a very satisfied family.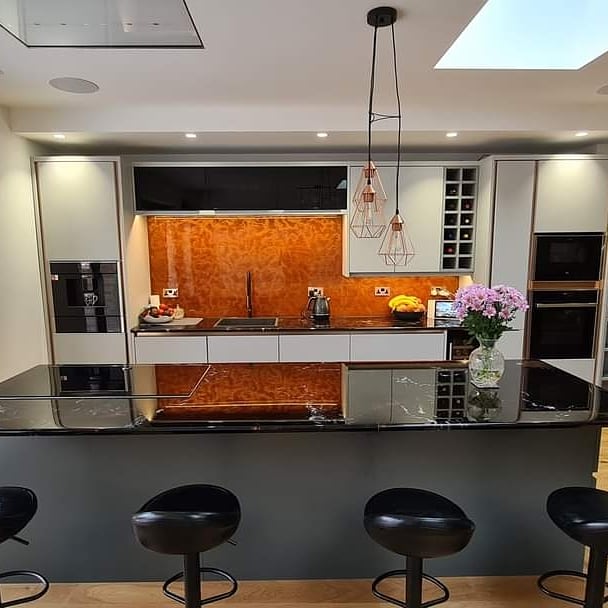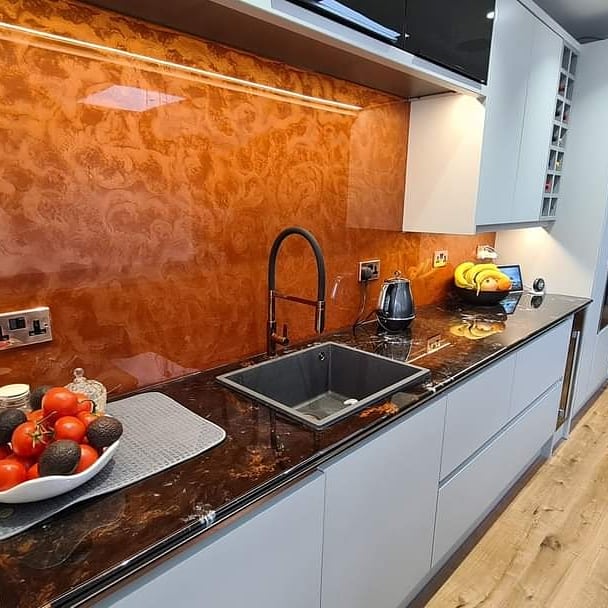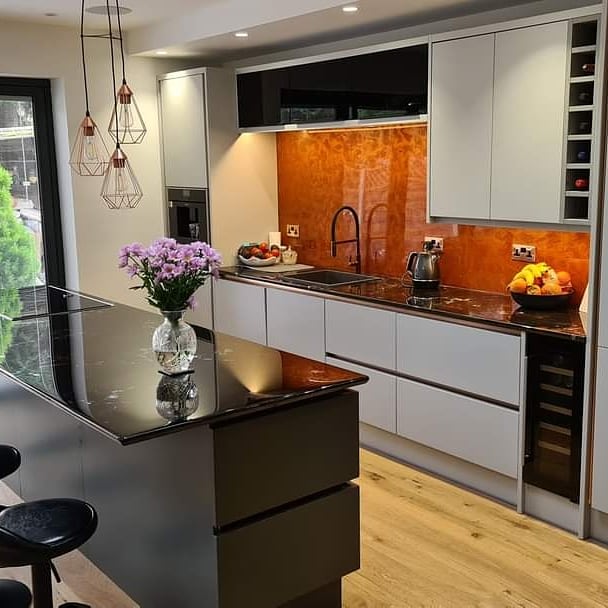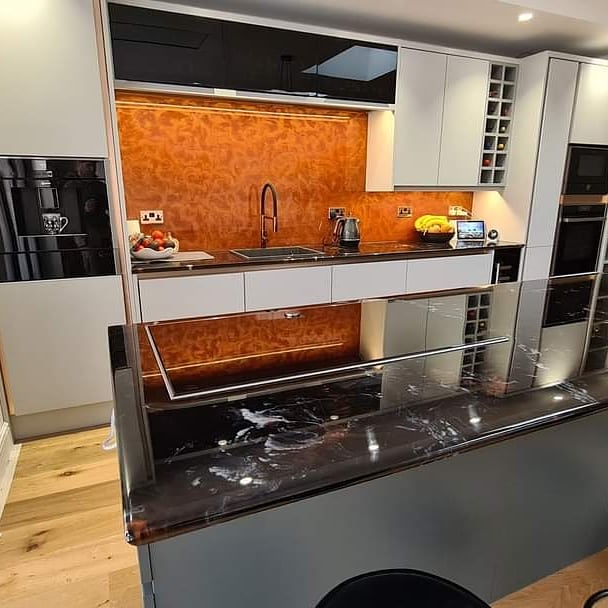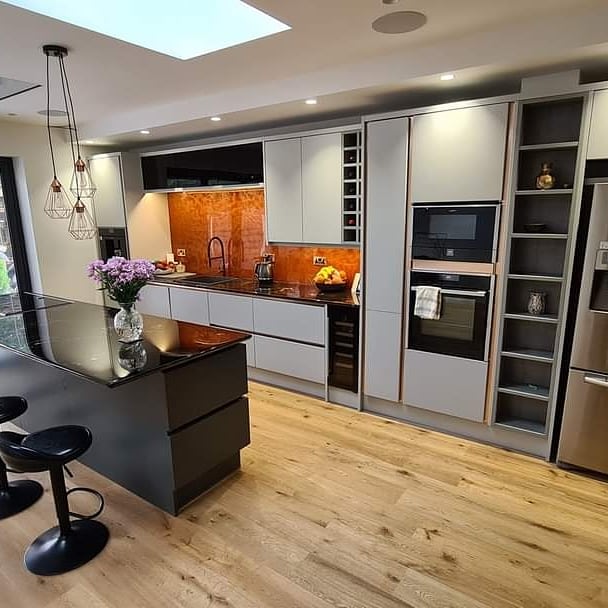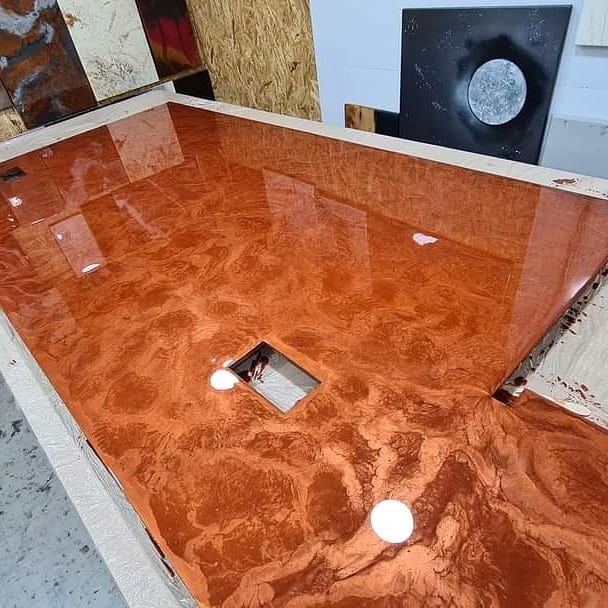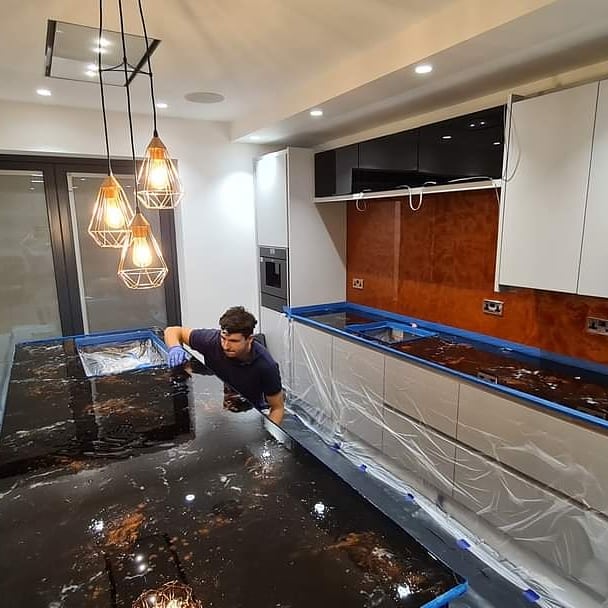 Client's Testimonial
I can't thank Mindy and Nigel enough. We were looking for a professional company to complete our kitchen installation, but also looking for some stunning design worktops and splashbacks, and can't believe what they have managed to achieve with the epoxy resin worktops and splashbacks. Mindy's creativity and attention to detail is on point, and Nigel's communication throughout has been amazing. Fully recommend them to anybody looking for quality kitchen installations.
Lina Juska
Epoxy Resin Full Kitchen Installation
Further Questions?
If you have any questions at all about any of our existing or potential quality Home Statement products or services then please get in touch.
Get in Touch