A common question often asked is 'what are the best kitchen splashbacks'?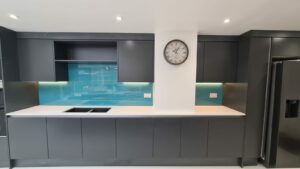 You may be looking for a great way to update your kitchen without going for a full refurbishment, or perhaps you are looking to complete your new kitchen installation, then no kitchen is complete without an appropriate kitchen splashback.
This guide will help you through 10 of the best kitchen splashback options to consider.
What is a kitchen splashback?
A kitchen splashback sometimes referred to as a backsplash, is essentially a panel of some sort that is placed on a wall, with the primary purpose of protecting your wall from any splashes. They are installed behind the sink, kitchen hob, and other areas that need protection. You can either opt to install a splashback across the entire wall or just directly behind the areas e.g. sink or hob.
In years gone by there would only have been a handful of choices of kitchen splashbacks with their sole purpose focused on practicality. However, as a modern population of style-conscious homeowners, kitchen splashbacks are now often seen as an opportunity to enhance the style and look of your kitchen.
You can now colour co-ordinate your kitchen with the rest of your home's colour scheme like you have never been able to before, be subtle, or go bold and make a real home statement. Materials vary from the traditional glass, industrial stainless steel, and classic stone, to now even the new modern handcrafted epoxy resin design kitchen splashbacks that are growing in popularity, and so many more material options.
What are the features and benefits of a kitchen splashback?
All splashback materials have their own features and benefits, and only you can decide which is the right option for you.
Some kitchen splashbacks are more about practicality or cost, whereas other kitchen splashbacks offer style and luxury, and others bring character and personality to your kitchen.
Whether you are looking for something subtle to blend into the background or something more eye-catching to make a statement within your kitchen and make you smile every time you use it, there are options for kitchen splashbacks that will suit both your needs and tastes.
Our top 10 kitchen splashback options to consider
Ceramic tile splashbacks
Stainless steel splashbacks
Acrylic panel splashbacks
To help you decide which kitchen splashback option may be best for you we have described below some of the characteristics of each kitchen splashback material and summarised their pros and cons for quick reference.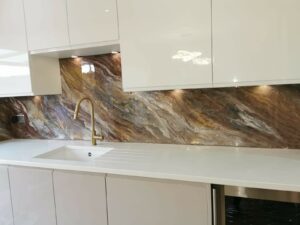 You may never have considered or even heard of epoxy resin splashbacks. It is a relatively new and innovative product that is growing in popularity due to its versatility and unique designs – an exciting kitchen splashback product that boasts many benefits over other splashbacks on the market. Think art which is then protected by a stunning super gloss topcoat.
Generally made on an MDF base that is primed, then skilled epoxy resin designers use their talents to produce stunning kitchen splashback designs using any colours that the customer chooses.
The design and colour options open to you are endless and can include multiple colours and with the use of learned techniques, the design and effects can blow any other splashback look out of the water.
You can opt for a subtle design, of more natural colours with limited effects, or go bold and create a statement in your kitchen with some vibrant colours and striking effects. There is also the ability to add in enhancements such as metallic highlights (e.g. gold, silver, copper, rose gold) and sparkle, shimmer or glitter, either within the design coat itself or within the clear coat, and you have the opportunity to influence how much or how little of everything that you want to be included.
Another benefit of epoxy resin splashbacks is the ability to make larger, seamless panels without a join, as baseboards can be joined together and then clear coated in one, leaving the only limitation being either the size of the delivery vehicle or the size that you can comfortably fit through the doors in your house or business. With that said the designers could possibly make on-site and lift into position for even larger projects.
Resin has natural antibacterial properties meaning that it can be used effectively in the kitchen and is easy to clean with merely a damp cloth and water, however, if you need to use a standard household cleaner for any reason then this should be fine also.
The only real negative is it may not suit all budgets like standard tiling options, and for small behind hob areas, epoxy resin splashbacks may be the most expensive of all splashbacks listed here. However, for medium-sized kitchens, the unique epoxy resin design splashbacks can often be the same price as glass splashbacks that require several sockets cut out, and for large kitchen areas epoxy resin splashbacks can often work out cheaper, meaning for a unique, personalised product this option can be great value for money for those with a reasonably-sized budget.
Pros and cons of epoxy resin splashbacks
Pros:
Unique design
Can use multiple colours of your choice
Can be colour matched
Greater depth of design
Add in enhancements such as sparkle and metallic highlights
Can embed objects within the resin
Made to measure
Can be made larger than any other splashback material in one piece
Antibacterial properties
Easy to clean
Water-resistant
No grouting
Hygienic
Can be cheaper for larger projects
Reflects light
Cons:
More expensive for smaller projects
May need extra protection for extreme heat stoves such as Ranges and Aga's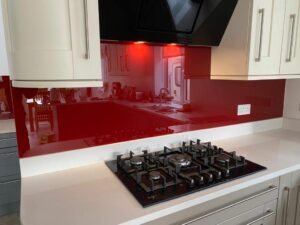 Glass splashbacks are essentially a sheet of toughened glass that is cut to the exact size and shape of your wall space. The back of the glass is then coated with special paint, or printed with a design or image. The image or paint colour is visible from the front of the glass but can't be scratched, stained or damaged.
Glass splashbacks are probably the second most common splashback to be found in people's homes, second to tiling.
A glass backsplash is a great choice for your kitchen if you are looking to achieve a sleek, modern design. Offering a robust, water-resistant surface that is easy to keep clean with just a damp cloth and water, or standard household cleaning sprays or wipes if something a little stronger is required.
Once the glass is toughened it produces a heat-resistant finish that can withstand heat up to 400°C making it an ideal choice for behind any type of hob, even Range and Aga cookers that tend to throw out more heat than basic gas or electric hobs.
Available in over 18,000 colours! (Crown, Dulux, Pantone, RAL etc) glass splashbacks give you the ability to colour match your kitchen accessories or home's interior colour scheme. By providing a sample, paint code or RAL number, the supplier will identify the colour, mix and spray it onto the back of the glass in the factory or workshop.
Glass splashbacks can be cut into any size and shape to ensure a perfect fit around all walls, with the glass company using their templates to ensure all sockets and notches are accounted for. For small areas behind the hob coloured glass splashbacks can be a relatively inexpensive option, however larger or multiple wall areas with several sockets to cut out for, can have one of the highest installation costs of all splashbacks in this list.
Pros and cons of back-painted glass splashbacks
Pros:
Available in any colour
Can be colour matched
Made to measure
Easy to clean
No grouting
Can be cheaper for smaller projects
Heat resistant (ensure toughened glass)
Water-resistant
Scratch-resistant
Hygienic
Reflects light
Cons:
Single colour only (other glass options available)
Generally, pay for each socket/notch to cut out for
Multiple panels are required to cover a large wall
Often a more expensive option for larger kitchens
Less depth of design compared to the 3D effect of epoxy resin splashbacks
Fingerprints may be seen more easily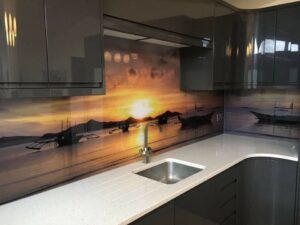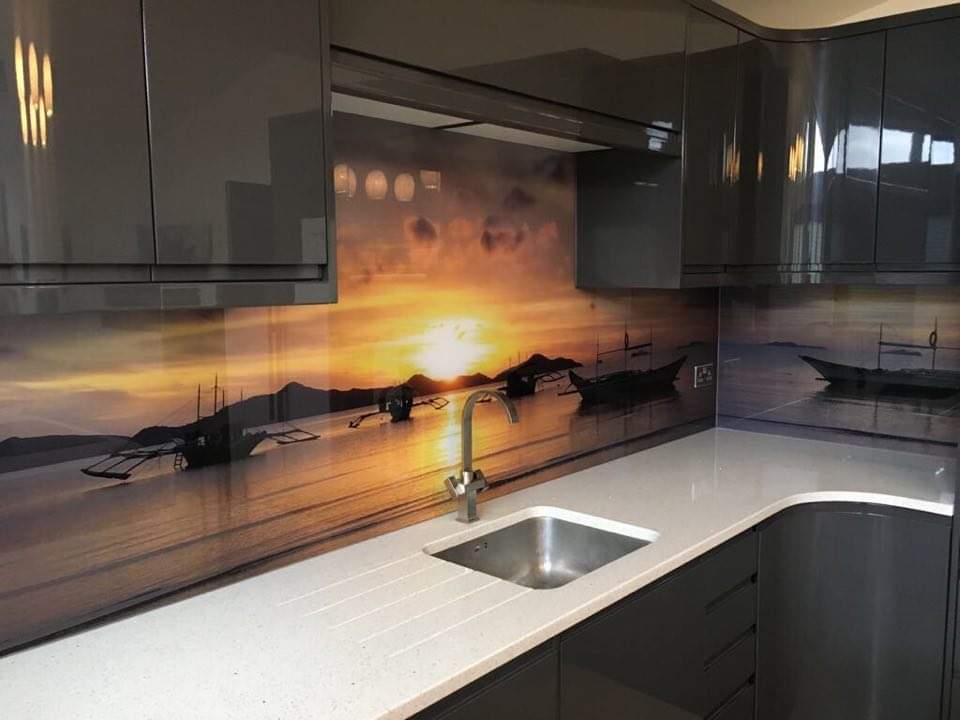 Vinyl image glass splashbacks, otherwise known as Vinyl print glass splashbacks, have all the benefits of the back-painted glass splashbacks above. However, instead of being painted in the appropriate colour on the back, a chosen image is digitally printed and applied onto the back of the glass to create the desired look.
Design options are almost unlimited and you can use image sites such as https://www.istockphoto.com and https://www.shutterstock.com boasting a library of over 370 million stock images and vector graphics that can be used. Or you may want to personalise your kitchen splashback with your own image which is also possible providing that the photo is of suitable quality and resolution.
Vinyl image glass splashbacks are better applied to low iron toughened glass, this meaning the glass is clearer and therefore purer colours and better clarity of the image. Standard clear toughened glass often produces a green tinge, whereas white can often look like mint white so you may want to bear this in mind when choosing and speaking with potential suppliers.
Pros and cons of vinyl image print splashbacks
Pros:
Unlimited choice of images, either own or via image sites such as shutterstock.com
Available in any colour
Made to measure
Easy to clean
No grouting
Can be cheaper for smaller projects
Heat resistant (ensure toughened glass)
Water-resistant
Scratch-resistant
Hygienic
Reflects light
Cons:
Generally, pay per each cut out of socket/notch
Often one of the more expensive options for large kitchens
Multiple panels are required to cover a large wall
Less depth of design compared to the more 3d effect of resin
Mirrored glass splashbacks are as described, splashbacks made from mirrored glass. These can come in either standard mirror glass or toughened mirror glass for additional strength and heat resistance. A reflective mirrored splashback can look modern, sleek and impressive in almost any kitchen, and comes in a variety of colours, the most popular mirror splashback options being silver, grey and bronze-tinted.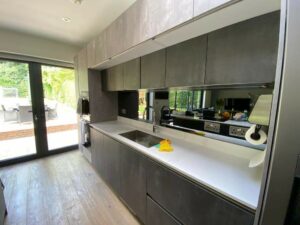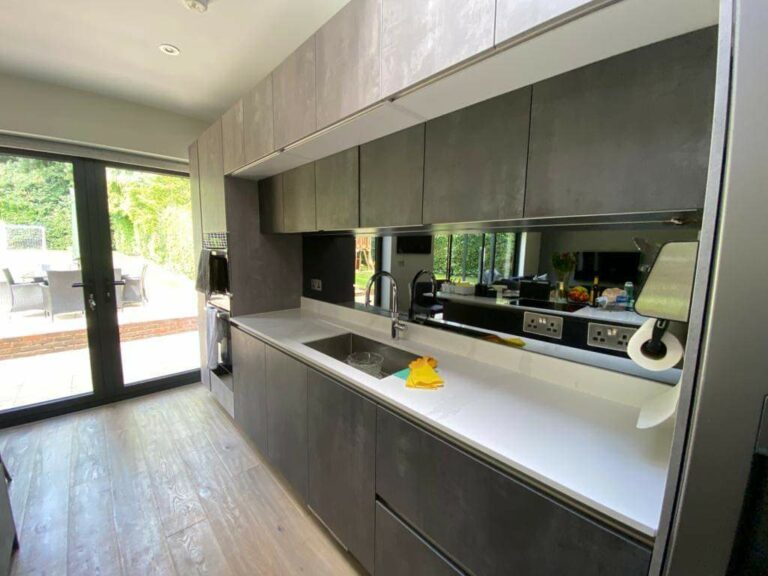 Using reflective splashbacks such as mirrored splashbacks is a great way of making a kitchen feel bigger than it actually is, or to make a room feel much brighter, either reflecting natural daylight coming in, or artificial light being bounced around the room.
Mirror splashbacks seem to extend the sightlines of the room they are in as they can be made as one long, seamless panel. Therefore, even the smallest kitchens or bathrooms can appear spacious and attractive. In Feng Shui, mirrors are said to be welcoming and bring good energy into the room. It can also be an interesting way of introducing colour as the light bounces off the coloured mirror surface and reflects onto the rest of the room's units or contents.
Current modern-day living sees many homeowners creating open-plan living arrangements, and the mirrored splashbacks can invite other spaces like dining and living into the kitchen for instance. This can create a sense of seamless integration between the different spaces. You can also place items you want to emphasise within the mirror reflection such as art on the opposite wall, or quality pieces of furniture or lighting.
However, if you are a bit of a hoarder or untidy in the kitchen, or like a lot of appliances and other items to sit on your worktops, then bear in mind that the mirrors can also make it look twice as busy as what it actually is.
Mirror tint finishes:
Silver/plain: The most neutral tinted finish, a true reflection of your kitchen. Enhance and complement silver features in your kitchen
Grey: A darker tint finish, for a more muted reflection look. Looks amazing in monochromatic kitchens.
Bronze tinted: Amazing at enhancing or introducing warm colour tones into your kitchen.
Only Toughened Mirrors are a suitable glass splashback option to place behind gas hobs as they can withstand up to 400ºC. The mirror splashbacks are relatively easy to clean, just with a damp cloth and water, however, a glass surface cleaner may also be required to maintain the mirror's natural appearance.
Pros and cons of mirrored splashbacks
Pros:
Made to measure
Easy to clean
No grouting
At least four times stronger than annealed glass
Creates the illusion of space – making the kitchen appear bigger
Heat resistant to 400°C (toughened only)
Increases the brightness in the room – reflects light
A cheaper option than most others (if toughened is not required)
Cons:
If a toughened mirror is required then the price generally doubles
Will require more frequent cleaning
Generally, pay per each cut out of socket/notch
Multiple panels are required to cover a large wall
Limited colour options compared to alternative splashback options
Fingerprints may be seen more easily
Antique mirror splashbacks bring a fantastic rustic look and feel to any kitchen.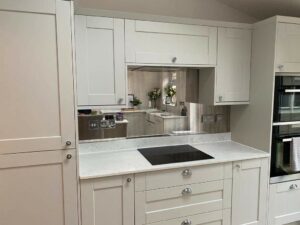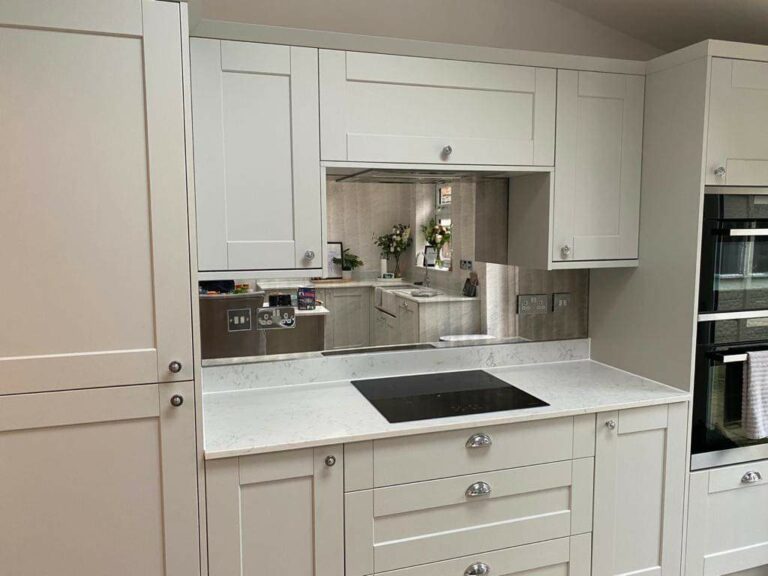 It has all the benefits of standard mirror splashbacks described above. Available in varying colours, with the addition of different antique patterns stretching across the antique mirror splashback giving it character. Generally used by those homeowners that enjoy a vintage interior style, antique mirror splashbacks contain a beautiful distressed look, providing an antique look that can work with almost any kitchen design.
Pros and cons of antique mirror splashbacks
Pros:
More character of design (not plain mirror)
Made to measure
Easy to clean
No grouting
Heat resistant (ensure toughened mirror)
Reflects light
Cons:
More expensive than a standard mirror
If a toughened mirror is required then the price generally doubles
Will require more frequent cleaning
Multiple panels are required to cover a large wall
Generally, pay per each cut out of socket/notch
Limited design options compared to alternative splashback options
Finger prints may be seen more easily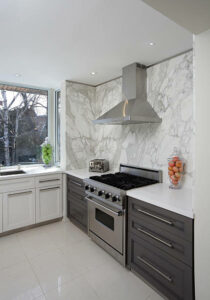 Quartz kitchen splashbacks are luxury splashbacks that bring both style and class to any kitchen. Quartz is engineered to be an alternative to popular kitchen worktops and kitchen splashback choices such as granite and marble. Often made to look like its natural counterparts, however, due to being man-made a key benefit is that they offer many more colour and style options to suit homeowners' tastes and colour schemes.
Unlike natural stone splashbacks and kitchen worktops, Quartz splashbacks are stain-resistant. Please note, however, that though they are stain-resistant they are not stain-proof and thus can react with certain chemicals. For more information on its staining properties please click on the following link https://www.granitegold.com/does-quartz-stain/.
For extreme heat from stoves such as Ranges or Agas, we would still recommend granite or glass splashbacks as quartz contains resin, which is ok behind a standard hob but not advisable for the stoves producing stronger more direct heat.
Pros and cons of Quartz splashbacks
Pros:
Greater colour and style choice than Granite
Easy to clean
No grouting
Non-porous
Stain-resistant
Strong and durable
Heat resistant
Doesn't require maintenance once installed
Cons:
More expensive than cheaper splashback alternatives
Less control over colours than an epoxy resin splashback option
Not suitable for extreme heat stoves such as Ranges and Agas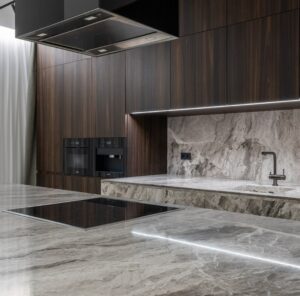 One of the classic kitchen splashbacks is the Granite splashback. It's natural properties and elegant look brings a classy ambience to any kitchen. Usually paired with a matching Granite worktop to match for that consistent, seamless style.
Its heat properties are one of the highest, and in terms of keeping clean is one of the easiest, generally with a damp cloth and a quick wipe-over.
Consider having a shorter splashback in lighter work areas, known as an upstand (approx. 100mm) and a full-height splashback behind the hob, this will save on cost considerably and also looks quite smart.
Pros and cons of granite splashbacks
Pros:
Natural material
Classic look and styles
Made to measure
Easy to clean
No grouting
Robust material
Greater heat resistance than most other splashbacks
Cons:
More expensive than cheaper splashback alternatives
Porous – more susceptible to staining
Limited colour options compared to options such as epoxy resin splashbacks
8. Ceramic or Porcelain tile splashbacks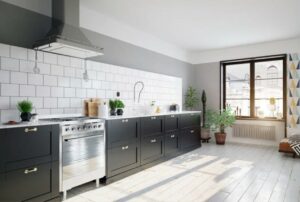 The most popular option for kitchen splashbacks is tiling. Largely due to the 'DIY' nature of the product, homeowners are able to buy them off the shelf and fit themselves. Meaning that ceramic tiled splashbacks are one of the cheapest solutions on the market.
With a large number of designs and colours available, they can colour co-ordinate with pretty much any kitchen colour scheme. For instance, a specific colour of accessory in your kitchen can be emphasised with a matching coloured tiled splashback.
One of the most popular tiles used for kitchen splashbacks is the subway tile because of its timeless look. These tiles come in a huge variety of styles, shapes and colours ranging from the basic white rectangle to a more distinctive square pattern.
If you are looking for something a little different then the classic chevron or mosaic tiles can offer that point of difference and break up the usual straight vertical and horizontal lines of the kitchen – perfect for those aiming for a uniform angled theme interior.
However, regardless of the style of tiled splashback, or whether you have a full tiled wall or just a small tiled splashback behind your hob or sink, the downside with a tiled splashback is that the grout within the tiles can get dirty and greasy over time and be very stubborn to clean. Also, the splashes produced from cooking or washing can leave a residue that needs to be constantly cleaned to prevent staining.
Pros and cons of ceramic tile splashbacks
Pros:
Generally cheaper option
Suitable for DIY installation
Heat resistant
Timeless and classic in designs
A large amount of tile and colour options are available
Simple and effective
Cons:
More time-consuming to install
Generally less adventurous in design and style
Harder to keep clean
Grout lines may need ongoing cleaning/maintenance
Lacks the impact of design and colour compared to epoxy resin and glass options
Does not reflect light
9. Stainless steel splashbacks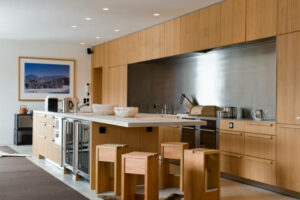 Stainless steel splashbacks are more related to commercial kitchens or fast food outlets due to their excellent heat and water-resistant properties.
However stainless steel splashbacks are also a popular residential splashback choice for behind hobs for those that can creatively include it in a more modern, or contemporary kitchen. Though you need to be careful not to make the stainless steel panels too large otherwise they can look too industrial. If you are wanting a softer and more natural aesthetic to your kitchen, then stainless steel is probably not the style of kitchen splashback you are looking for.
Whilst stainless steel is generally easy to clean and can withstand most cleaning chemicals, it is seen to have a higher maintenance commitment than the other splashback alternatives. You may need to clean more often otherwise dried food or stains can be difficult to remove. Due to the additional cleaning required, and often the materials used to clean the stainless steel panels,  the stainless steel splashback is also more susceptible to scratches, which can then harbour germs and bacteria if not kept clean.
Pros and cons of stainless steel splashbacks
Pros:
Good heat and water-resistant option
Can look modern in many homes
Easy to install
Inexpensive
Can be cut to fit
Cons:
Higher maintenance is required to keep clean
More susceptible to micro scratches
Can look too industrial
Despite the name, it can stain, especially if the food debris is acidic
Can warp over time
10. Acrylic panel splashbacks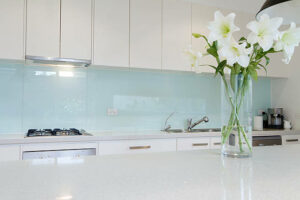 Similar to the range of glass splashbacks, acrylic splashbacks come in a variety of colours, designs and patterns.
The main benefit of this splashback material is that it is more cost-effective than glass. But compared to glass, and definitely to the resin and stone splashback options, they generally look much cheaper and also scratch much more easily, and therefore more likely to harbour germs and bacteria.
They are however lighter to handle and easier to cut and install, making them more popular with homeowners that want to install their own splashback solution to keep the costs down or have the sense of achievement of fitting their own. The lifespan of these splashbacks, however, is deemed to be much shorter than the more quality kitchen splashback options.
Pros and cons of acrylic panel splashbacks
Pros:
Large colour choice
Hardwearing
Water-resistant
Can be cut to size on site
Cheaper than glass and other splashback options
Cons:
Look cheaper
Can scratch easier
Less hygienic than other options
Not heat resistant
Not a totally rigid material so can warp or split over time
Kitchen Splashback Summary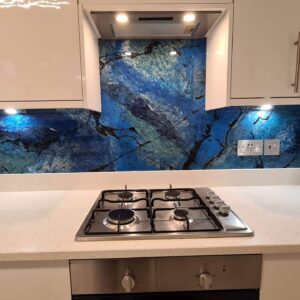 With so many quality kitchen splashback options to choose from, all with their own unique benefits or downfalls, only you can decide which option is right for you.
However, if you are looking for a higher-end, modern, colourful splashback to compliment or make a statement in your kitchen then consider a unique design epoxy resin splashback if you can find a talented epoxy resin designer who covers your area. (Click here for area coverage)
If you want your splashback to add a solid single block of colour to your kitchen then a back-painted glass splashback is probably the right option for you.
Wanting a more natural look or popular white marble effect then it's likely to be a quartz or granite splashback that you would need to consider, but this is usually selected when you have the same matching worktop.
If reflecting light, or wanting to make a small space look bigger is the most important factor, then consider one of the mirrored or glass splashbacks or even epoxy resin with the super gloss finish.
Tiled, acrylic and stainless steel splashbacks are generally the cheapest options if you are working on a tight budget.
Or if you are looking for a lower maintenance option then epoxy resin, glass or quartz/granite splashbacks should be top of your list.
If your interior scheme leans more towards rustic or industrial then opt for a rustic antique mirror or industrial stainless steel kitchen splashback to finish off the look.
Table of comparison showing the pros and cons of each kitchen splashback option
Epoxy
Resin
Back-
Painted
Glass
Vinyl
Print
Glass
Mirrored
Antique
Mirror
Quartz
Granite
Ceramic
Tile
Stainless
Steal
Acrylic
Panel
Unique design

✔︎

✘

✘

✘

✘

✘

✘

✘

✘

✘

Multiple colour mix

✔

︎

✘

✔

︎

✘

✘

✘

✘

✘

✘

✘

Wide colour choice

✔

︎

✔︎

✔︎

✘

✘

✘

✘

✔︎

✘

✔︎

Colour match

✔︎

✔︎

✘

✘

✘

✘

✘

✘

✘

✘

Add enhancements

✔︎

✘

✘

✘

✘

✘

✘

✘

✘

✘

Embed objects

✔︎

✘

✘

✘

✘

✘

✘

✘

✘

✘

Made to measure

✔︎

✔︎

✔︎

✔︎

✔︎

✔︎

✔︎

✘

✘

✘

Up to 3.2m in 1 piece

✔︎

✔︎

✔︎

✔︎

✔︎

✔︎

✔︎

✘

✔︎

✘

Over 3.2m in 1 piece

✔︎

✘

✘

✘

✘

✘

✘

✘

✘

✘

Antibacterial

✔︎

✔︎

✔︎

✔︎

✔︎

✔︎

✔︎

✘

✘

✘

Easy to clean

✔︎

✔︎

✔︎

✔︎

✔︎

✔︎

✔︎

✘

✔︎

✔︎

Water-resistant

✔︎

✔︎

✔︎

✔︎

✔︎

✔︎

✔︎

✔︎

✔︎

✔︎

No grouting

✔︎

✔︎

✔︎

✔︎

✔︎

✔︎

✔︎

✘

✔︎

✔︎

Hygenic

✔︎

✔︎

✔︎

✔︎

✔︎

✔︎

✔︎

✘

✔︎

✘

Reflect light

✔︎

✔︎

✔︎

✔︎

✔︎

✘

✘

✘

✘

✘

Heat resistant to standard hobs

✔︎

✔︎

✔︎

✔︎

✔︎

✔︎

✔︎

✔︎

✔︎

✘

Heat resistant to range cookers

✘

✔︎

✔︎

✔︎

✔︎

✔︎

✔︎

✔︎

✔︎

✘

Picture designs

✘

✘

✔︎

✘

✘

✘

✘

✘

✘

✘

No extra cost per cutout

✔︎

✘

✘

✘

✘

✔︎

✔︎

✔︎

✔︎

✔︎

Low maintenance

✔︎

✔︎

✔︎

✔︎

✔︎

✔︎

✔︎

✘

✘

✘

Stain-resistant

✔︎

✔︎

✔︎

✔︎

✔︎

✔︎

✘

✘

✘

✘

Non-porous

✔︎

✔︎

✔︎

✔︎

✔︎

✔︎

✘

✔︎

✔︎

✔︎

Luxury finish

✔︎

✘

✘

✘

✔︎

✔︎

✔︎

✘

✘

✘

DIY install

✘

✘

✘

✘

✘

✘

✘

✔︎

✔︎

✔︎

Long-lasting

✔︎

✔︎

✔︎

✔︎

✔︎

✔︎

✔︎

✔︎

✔︎

✘
Kitchen Splashback Overview
Below is a short overview summary of the key splashback requirements that you may be considering:
Artistic design
Unique epoxy design, vinyl print
If you are looking for something different, your own piece of art to make a statement in your kitchen, coated in a stunning super gloss finish then the unique epoxy resin splashbacks are a "no brainer", or a vinyl image print if you want a more uniformed 2d image or picture.
High-end option
Epoxy resin, quartz, granite, mirror, antique mirror
With price comes quality and style. All offer a high-end option but with a completely different look depending on your taste or requirements. Read the relevant sections above to compare options.
Cheaper option
Tiled, acrylic, stainless steel
Like the saying "you get what you pay for", where these are the cheaper options, they also generally look like the cheapest options, that being said you can still make some great statement splashbacks with these materials.
Low maintenance
Epoxy resin, back-painted glass, vinyl image glass, quartz, granite
If you are time restricted or just want something low maintenance then these are the options easiest to keep clean.
Heat resistant
Generally, all options are good except for acrylic
If you have a larger gas cooker such as a Range or Aga then don't choose any of the acrylic or resin options, including quartz unless you are going to put a piece of toughened glass behind the hob area to protect, or a piece of granite with the resin options. Or consider a high heat-resistant material directly behind and then another material of choice on either side.
Do it yourself
Tiled, acrylic, stainless steel
Bear in mind all these still require an amount of skill and tools to successfully install yourself. If paying somebody else then these may not cost much less than the more bespoke options on this list. Plus paying a specialist installer can make the difference in it looking professional versus a 'DIY Job'.
Reflecting light
Epoxy resin, mirror
The natural properties of mirrors mean this is the standout material with the best light reflection, however, the super gloss coating used on the epoxy resin is also very reflective and gives you the added benefit of colour and design.
Using colour to enhance your kitchen
Epoxy resin, back-painted glass and vinyl image print.
These options can help you personalise your kitchen, either colour match existing colour schemes or choose from thousands of available colours on the market, or unlimited design or image options.
Colour match your home
Epoxy resin, back-painted glass.
Both of these options can be colour matched using any paint code such as RAL or from the leading paint manufacturers' colour charts.
Anti-bacterial
Generally, all splashback options listed are good except for acrylic and tiled.
Epoxy resin and glass have natural antibacterial properties that help them to be two of the most hygienic options.
Large seamless splashbacks
Epoxy resin, glass, mirror, quartz, granite.
All these options come in long lengths that can often cover a small wall in one piece. However, epoxy resin is the most versatile as there is no maximum size other than the restriction of the room or door opening, or van size to transport from the workshop, unless made on-site, which opens up even larger size opportunities.
Can We Help?
If you have any questions about kitchen splashbacks or would like a quote for any of those listed above then please don't hesitate to get in touch with us at Home Statements Ltd, we specialise in the production and installation of quality kitchen splashbacks in Kent, London, and surrounding counties covering most of the Southeast of England.