If you are reading this then it's fair to say you are probably in the market for a kitchen splashback. There are several popular kitchen splashback materials for you to choose from, with glass kitchen splashbacks being a favourite for many due to all it's key benefits compared to others such as tile and stainless steel. However, you may not have seen or even heard of Epoxy Resin splashbacks, so how do they compare with Glass kitchen splashbacks?
This guide will help you understand the differences between 'epoxy resin splashbacks' and 'glass kitchen splashbacks'.
What is an epoxy resin kitchen splashback?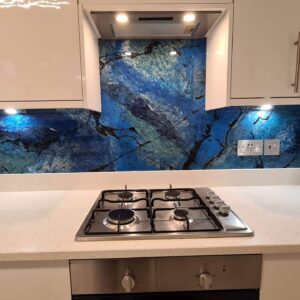 Our bespoke epoxy resin kitchen splashbacks are made from scratch, templated in your kitchen to ensure a perfect fit, with a unique design created  for every customer.  Each individual splashback design is created using a mix of any colours that you choose, and a style using an array of design techniques mastered by our resin kitchen splashback designers. Once the amazing resin design has been created, we then apply a stunning 'super' gloss top coat to seal it, and give a real depth to the splashback design work.
What is a glass kitchen splashback?
A glass kitchen splashback is essentially a splashback panel made of glass that is made to fit your splashback area with the aim to prevent any splashes from staining or attacking your walls behind the hob or sink areas. There are many variants of glass splashbacks available to choose from, including back painted glass kitchen splashbacks, vinyl or digital print glass kitchen splashbacks, or even mirrored kitchen splashbacks. The cheapest and most popular style is the back painted glass kitchen splashback. A specially formulated paint, in a colour of your choice, is then sprayed onto the back surface area of the cut glass panel. Another popular glass splashback option is the digital print glass kitchen splashback, also known as a vinyl image print glass kitchen splashback. Instead of the specialist paint applied a high resolution image or picture is applied to the rear of the glass.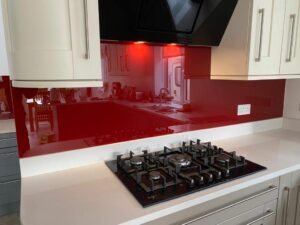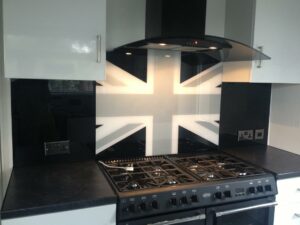 Which kitchen splashback has the best design?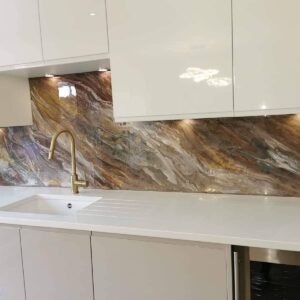 'Best design' can be very subjective. Back painted glass splashbacks and mirror splashbacks will be the least attractive by design due to having no prominent design plus their singular colour finish. However, both our unique epoxy resin splashbacks and digital print glass splashbacks have the ability to either create that wow factor or blend in subtly within your overall kitchen design.
Our epoxy resin kitchen splashback designs are created via a discussion with you and the designer, so you can colour co-ordinate it with your existing colour scheme or go for something with complete contrast. Our epoxy resin designer will listen to both your colour and style preferences and within the workshop create an amazing unique design, including any enhancements that you may wish to include such as sparkle, glitter or metallic highlights of silver, gold, rose gold, copper etc. The techniques our designers use have taken years to master, and the methods to create the details and unique effects are mind blowing, with many being kept as trade secrets as it's what makes us stand out above our few competitors. Your preference may be a subtle design with just a few veins or details, or you may wish to go bold and make a real design statement.
Our digital print glass splashbacks can also colour co-ordinate with your home, and has the ability to include any high resolution image out of the millions that are available worldwide. Design options are almost unlimited and you can use image sites such as https://www.istockphoto.com and https://www.shutterstock.com boasting a library of over 370 million stock images and vector graphics that can be used. You can even personalise with a favourite family photo or scenery shot.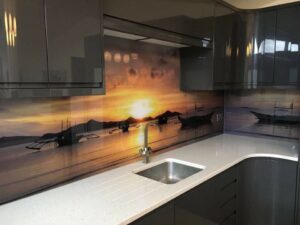 The main difference between the glass and the epoxy resin design options is that the glass design images are clean, defined, uniformed images, that can be replicated by others also in their kitchen. Whereas the epoxy resin kitchen splashbacks are all unique, un-uniformed designs due to the fluid nature of the resin product and the unpredictable chemical reactions that appear during the design process, but produce the most amazing detailed effects that will keep you looking at different parts of your kitchen splashbacks for years to come. You have complete influence over the design and colours through conversation with the designer, plus any quantity of added enhancements, and for these reasons nobody else in the world will have the same splashback as you.
Which kitchen splashback has the best colour options?
Available in over 18,000 colours! (Crown, Dulux, Pantone, RAL etc) glass splashbacks give you the ability to colour match your kitchen accessories or home's interior colour scheme. By providing a sample, paint code or RAL number, the supplier will identify the colour, mix and spray it onto the back of the glass in the factory or workshop. Standard back painted glass splashbacks will be produced in the one colour that you choose, if you wanted a multi product glass splashback then you will need to opt for a vinyl image/digital print glass kitchen splashback.
The major benefit of an epoxy resin kitchen splashback is the ability to include any, and as many, different colours into the splashback design to personalise it to your taste. Epoxy resin is available in hundreds of different pigment colours, however good epoxy resin designers can mix pigments to make any colour necessary, so in theory can match the quantity of colours available as that of the glass splashbacks. Again by providing a sample, paint code or RAL number, our epoxy resin designers could colour match or produce the necessary colours to include within your design. The different techniques used to create the unique designs can also create different colours of their own through chemical reactions, the mixing of pigments and added enhancements.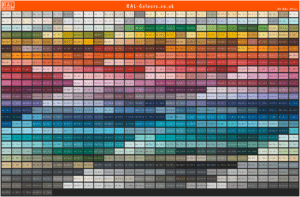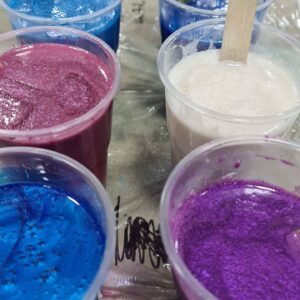 Which kitchen splashback is stronger ?
We all know that glass is a relatively strong material, and all our glass kitchen splashbacks are made with toughened glass as standard. Glass splashbacks can withstand a reasonable force impact which should leave no marks. Epoxy resin is a versatile product that has a variety of uses in both the modern and traditional home. It is formed by mixing two components that are matched to each other. The liquid resin component is mixed with a hardener,  producing a chemical reaction that after several hours results in it turning into a strong solid state. Combining this product with other materials such as wood and aggregate, and you have fantastically strong and robust products such as epoxy resin worktops and splashbacks or resin bound driveways and patios with an amazing finish. Epoxy resin kitchen splashbacks are capable of withstanding a strong force impact with very little negative impact. Both kitchen splashbacks are therefore good robust options to choose from, however if we carried out the 'hammer test' and struck both materials with a hammer, then the glass splashback would most probably crack, whereas the epoxy resin splashback should withstand the impact. Whereas the glass splashback if cracked would need removing and disposing of, should there be any marks on an epoxy resin surface then there is the possibility of repairing or recoating the surface to look new again.
Which kitchen splashback is easiest to keep clean ?
Both the epoxy resin splashbacks and glass kitchen splashbacks are equally easy to keep clean. Unlike tile grouting that can harbour germs and discolour over time, the epoxy resin and glass materials are seamless so easy to wipe over. Both have natural antibacterial properties, meaning that it can be used effectively in the kitchen and is easy to clean with merely a damp cloth and water. However, if you need to use a standard household cleaner for any reason then this should be fine also.
Can either kitchen splashback include enhancements?
If you are looking for that added bit of sparkle then glitter can often be added to the special back paint on the glass splashbacks, but that's pretty much the limitations of the glass splashback option. Epoxy resin splashbacks however gives you total freedom of design which includes an array of enhancements such as sparkle, metallic highlights and even objects. A variation of sparkle, glitter and shimmer can be added either into the resin design itself, in within the super gloss top coat, or even both if you want that ultra sparkle effect, you can add as little or as much to achieve your desired look. Another popular enhancement is metallic highlights. Stunning reflective chrome highlights in silver, gold, rose gold, copper plus other chrome options can be applied within the design, again as much or as little as required. As resin can encase and preserve objects also, for more unusual splashback designs it's possible to include objects within the design, see below an example of an ocean scene using real sand and starfish.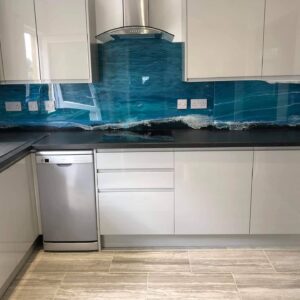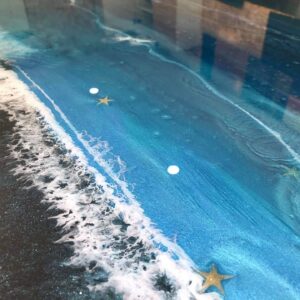 How big can each kitchen splashback be without a join?
Both kitchen splashbacks can be produced and installed in large sizes without a join.
On the whole most companies can produce glass splashbacks upto a maximum length of 3.2m long and 1.5m high, after which the panels may need to be split into 2 with a join. We can however produce glass splashbacks upto a maximum length of 4m long, though lengths between 3.2m-4m would incur a surcharge due to the panels being cut from a 7m sheet.
However, another benefit of epoxy resin splashbacks is the ability to make larger (longer and higher), seamless panels without a join. Baseboards can be joined together and then designed and clear coated in one, leaving the only limitation being either the size of the delivery vehicle or the size that you can comfortably fit through the doors in your house or business. With that said the designers can also make on-site and lift into position for even larger projects if the appropriate environment needed is available.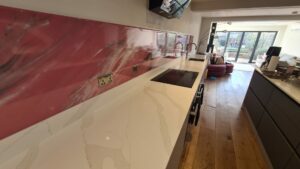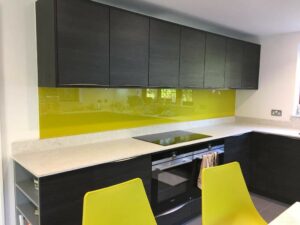 Which kitchen splashback reflects light?
Both epoxy resin kitchen splashbacks and glass kitchen splashbacks have great light reflecting properties. They will both help natural light to bounce around the room, whilst also reflecting a bit of the colour that the splashback has as part of it's design, which can help create the appropriate ambience, whilst complementing the home or kitchens colour scheme.
Which kitchen splashback is heat resistant?
Both the epoxy resin kitchen splashbacks and glass kitchen splashbacks are heat resistant and suitable to use behind all standard hobs, including gas hobs. Though glass splashbacks can withstand a higher heat. Once the glass is toughened it produces a heat-resistant finish that can withstand heat up to 400°C making it an ideal choice for behind any type of hob, even Range and Aga cookers that tend to throw out more heat than basic gas or electric hobs. Epoxy resin splashbacks are suitable to place behind standard hobs also, but we would recommend either a glass splashback, or placing a small piece of clear or coloured glass over the top of the epoxy resin splashback directly behind the hob for any bigger heat output appliances such as a Range cooker, Aga or gas stove where the rings are unusually closer to the back wall.
Which kitchen splashback is easier for cut outs?
To be honest it shouldn't matter too much to you which splashback material is easier to cut to accommodate things such as sockets and switches, as our team, or contractor you choose, will have these areas cut ready for you so you do not need to do anything. The glass splashback holes and notches are pre-cut in the manufacturing plant using the measurements taken during the site visit. Our epoxy resin kitchen splashbacks are templated on site using the actual panels that will form the base of the splashback, so the cut outs will be made during the templating process to ensure a perfect fit once they have been designed, and delivered back ready for installation. The other thing to factor in is that most glass splashback companies charge extra for every hole or notch cut out as this is charged in the manufacturing process, whereas we do not currently charge any extra for the amount of cut outs required within the epoxy resin kitchen splashbacks.
Which kitchen splashback has the best finish?
A flawless super gloss finish on an epoxy resin splashback tops that of a standard glass kitchen splashback finish. The 2-3mm of high quality super gloss top coat that is applied on top of the design not only magnifies the detailed design beneath, creating an almost 3d effect, but the gloss finish itself has almost mirror like quality with its stunning reflective properties. However, this quality finish is extremely hard to achieve, and there are not many companies that can achieve such a finish and that is why our epoxy resin designers are extremely sought after. It has taken years of experience and a professionaly adapted workshop with full dust extraction system to reduce any dust during the production process to eliminate any imperfections. However, with this said the glass kitchen splashbacks still have a great finish, due to its robust properties and with appropriate protection and handling from manufacturing through to installation the glass should also remain flawless with a good reflective scratch free finish, although only achieving a standard 2d effect to the applied design or colour.
Which kitchen splashback is the easiest to install?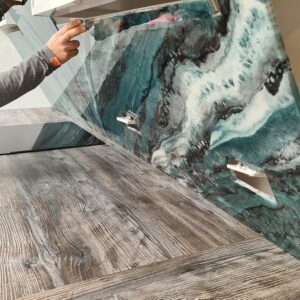 There is not much difference in the installation processes between epoxy resin kitchen splashbacks and glass kitchen splashbacks. Both are templated to ensure a perfect fit with the appropriate holes pre-cut to accommodate any sockets and switches. They are then lifted into position and fixed using a suitable strong adhesive. The installation process for both is usually no more than a few hours depending how many panels require fitting.
Which kitchen splashback is the cheapest?
This is not an easy question to answer due to many variables, plus dependant on which companies you select to quote. We can only answer this based on our own product and service offering for our own epoxy resin and glass kitchen splashbacks. In theory the epoxy resin kitchen splashback is the more luxury and therefore most expensive of the two options, this is largely due to the designers time to create the panels and design from scratch plus the rising cost of resin, as apposed to the cheaper material of glass that is manufactured to size in the factory. However! our epoxy resin designer can make medium, larger sized and multiple pieces in not much more time than the smaller pieces so the larger the area the better value it becomes. For this reason we find that the cost of our unique epoxy resin splashbacks for medium sized kitchens are often equivalent to that of our glass splashbacks, and for larger kitchens our epoxy resin kitchen splashbacks are more often than not coming out cheaper. Therefore in our experience small kitchens will find our glass kitchen splashbacks to be cheapest, and for larger kitchen areas our unique epoxy resin kitchen splashbacks are cheapest.
Epoxy resin vs Glass Kitchen Splashback Summary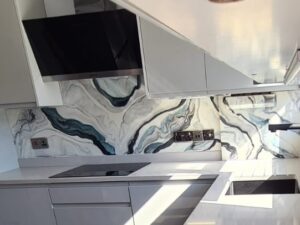 Epoxy resin and glass kitchen splashbacks are both an excellent choice to have installed in your kitchen. Either for practical use to protect against splashes from your hob or sink, or to bring colour and style to your kitchen. With so many benefits for each, only you can decide which option is right for you.
However, if you are looking for something modern, contemporary and unique, and want to influence the design and style to either co-ordinate with your existing colour scheme or to make a statement then perhaps consider a unique design epoxy resin splashback if you can find a talented epoxy resin designer who covers your area, or we can help if you live in the South East of England. The super gloss finish of the epoxy resin splashbacks are stunning and enable the design work and colours to really shine and stand out, and the ability to add in additional design enhancements or produce extra large, seamless panels, makes epoxy resin splashbacks a firm favourite for many.
If you want your splashback to add a solid single block of colour or distinctive picture/image to your kitchen, co-ordinating with your existing colour scheme, with a more traditional and uniformed look, then perhaps a back-painted glass splashback or digital image glass splashback would be more suitable.
If reflecting light, or wanting to make a small space look bigger is the most important factor, then consider any one of our mirrored or glass splashbacks, or our epoxy resin splashback with the super gloss finish.
If you are looking for a low maintenance option then both our epoxy resin and glass splashbacks are super easy to keep clean.
If budget plays a big part in your decision making then all these splashbacks are great value for money, however it depends on the size of the area to cover and quantity of cut outs to which ones come out cheapest. As a broad guide, glass splashbacks generally come up cheapest for small kitchen areas, for instance behind a hob. Both splashbacks can work out around the same price for medium sized kitchens, and unique design epoxy resin kitchen splashbacks can come out cheaper for larger kitchen areas making then extremely good value for money.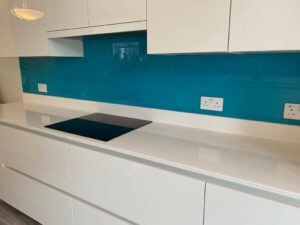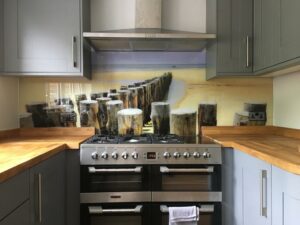 Request a Quote
Table of comparison showing the pros and cons of each kitchen splashback option
Epoxy
Resin
Back-
Painted
Glass
Vinyl
Print
Glass
Mirrored
Antique
Mirror
Quartz
Granite
Ceramic
Tile
Stainless
Steal
Acrylic
Panel
Unique design

✔︎

✘

✘

✘

✘

✘

✘

✘

✘

✘

Multiple colour mix

✔

︎

✘

✔

︎

✘

✘

✘

✘

✘

✘

✘

Wide colour choice

✔

︎

✔︎

✔︎

✘

✘

✘

✘

✔︎

✘

✔︎

Colour match

✔︎

✔︎

✘

✘

✘

✘

✘

✘

✘

✘

Add enhancements

✔︎

✘

✘

✘

✘

✘

✘

✘

✘

✘

Embed objects

✔︎

✘

✘

✘

✘

✘

✘

✘

✘

✘

Made to measure

✔︎

✔︎

✔︎

✔︎

✔︎

✔︎

✔︎

✘

✘

✘

Up to 3.2m in 1 piece

✔︎

✔︎

✔︎

✔︎

✔︎

✔︎

✔︎

✘

✔︎

✘

Over 3.2m in 1 piece

✔︎

✘

✘

✘

✘

✘

✘

✘

✘

✘

Antibacterial

✔︎

✔︎

✔︎

✔︎

✔︎

✔︎

✔︎

✘

✘

✘

Easy to clean

✔︎

✔︎

✔︎

✔︎

✔︎

✔︎

✔︎

✘

✔︎

✔︎

Water-resistant

✔︎

✔︎

✔︎

✔︎

✔︎

✔︎

✔︎

✔︎

✔︎

✔︎

No grouting

✔︎

✔︎

✔︎

✔︎

✔︎

✔︎

✔︎

✘

✔︎

✔︎

Hygenic

✔︎

✔︎

✔︎

✔︎

✔︎

✔︎

✔︎

✘

✔︎

✘

Reflect light

✔︎

✔︎

✔︎

✔︎

✔︎

✘

✘

✘

✘

✘

Heat resistant to standard hobs

✔︎

✔︎

✔︎

✔︎

✔︎

✔︎

✔︎

✔︎

✔︎

✘

Heat resistant to range cookers

✘

✔︎

✔︎

✔︎

✔︎

✔︎

✔︎

✔︎

✔︎

✘

Picture designs

✘

✘

✔︎

✘

✘

✘

✘

✘

✘

✘

No extra cost per cutout

✔︎

✘

✘

✘

✘

✔︎

✔︎

✔︎

✔︎

✔︎

Low maintenance

✔︎

✔︎

✔︎

✔︎

✔︎

✔︎

✔︎

✘

✘

✘

Stain-resistant

✔︎

✔︎

✔︎

✔︎

✔︎

✔︎

✘

✘

✘

✘

Non-porous

✔︎

✔︎

✔︎

✔︎

✔︎

✔︎

✘

✔︎

✔︎

✔︎

Luxury finish

✔︎

✘

✘

✘

✔︎

✔︎

✔︎

✘

✘

✘

DIY install

✘

✘

✘

✘

✘

✘

✘

✔︎

✔︎

✔︎

Long-lasting

✔︎

✔︎

✔︎

✔︎

✔︎

✔︎

✔︎

✔︎

✔︎

✘
Can We Help?
If you have any questions about kitchen splashbacks or would like a quote for any of those listed above then please don't hesitate to get in touch with us at Home Statements Ltd, we specialise in the production and installation of quality kitchen splashbacks in Kent, London, and surrounding counties covering most of the Southeast of England.