Statement Overview
Looking for a quality kitchen glass splashback?  Our bespoke kitchen glass splashbacks service offers:
Made to measure service for a perfect fit
Choice of back painted, mirrored, antique mirrored or vinyl
Over 18,000 design and colour choices
Glass splashbacks are essentially a sheet of toughened glass which is cut to the exact size and shape of your wall space. The back of the glass is then coated with a special paint, or printed with a design or image. The image or paint colour is visible from the front of the glass but can't be scratched, stained or damaged.
Whether you are looking for plain colour kitchen glass splashbacks in a colour of your choice to match in with your home's colour scheme, or whether you want to make a bigger statement within your kitchen with contemporary mirrored splashbacks, or add character with quality vinyl kitchen glass splashbacks (design/picture), we have all options covered for you, and happy to quote for a variety if you have yet to decide.
Coloured kitchen glass splashbacks
Back painted, sprayed with top quality glass paint
Colour matched to any RAL colour of your choice
Mirrored kitchen glass splashbacks
Available in Antique, Brown, Grey, Bronze colours
Beautiful mirrored finish to reflect the light back into the room
Vinyl kitchen glass splashbacks
Unlimited designs available
Choose any designs from Shutterstock.com which boasts over 350 million images
Personalise with your own quality images
Our professional, bespoke kitchen glass splashbacks team have over 20 years experience in the industry. Offering a friendly, personal service, we can organise a quick remote quote from just photo's of your existing kitchen or plans if it's a new kitchen installation. If you are happy with the price then the team can pay you a visit to review and show you samples, and whilst there they can template the areas to start the process if required.
Offering a 10yr guarantee on all standard kitchen glass splashbacks should give you confidence that what you will be buying is of the highest quality and you should never need to replace. The glass used is a 6mm low-iron toughened glass which is the clearest glass available, offering purity and clarity to both the paint or images used behind the glass.
Our professional service offering kitchen glass splashbacks installations is based in Kent, however as well as Kent we also cover London, Surrey, Essex, Sussex and parts of all surrounding counties. For a map of our coverage area please visit our Google business page.
Looking for something a bit different? Perhaps want to choose your own mix of colours, or introduce some stunning design effects and enhancements. Then check out our unique handcrafted epoxy resin splashbacks.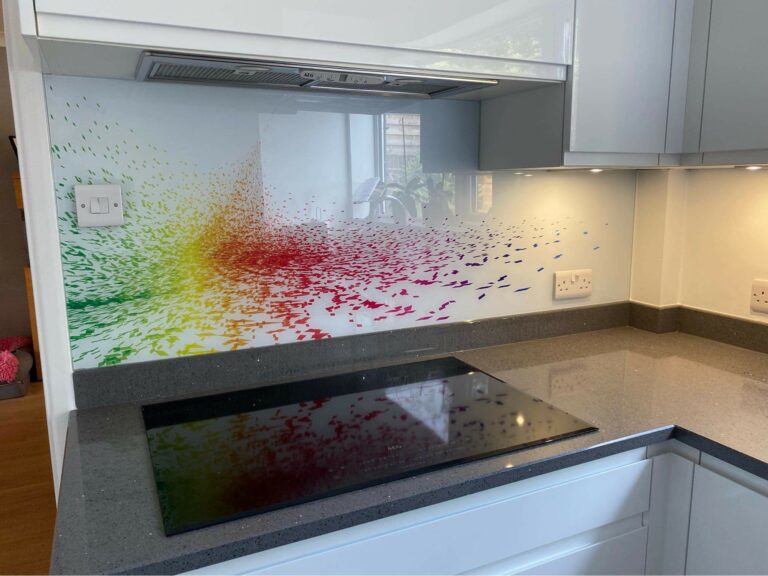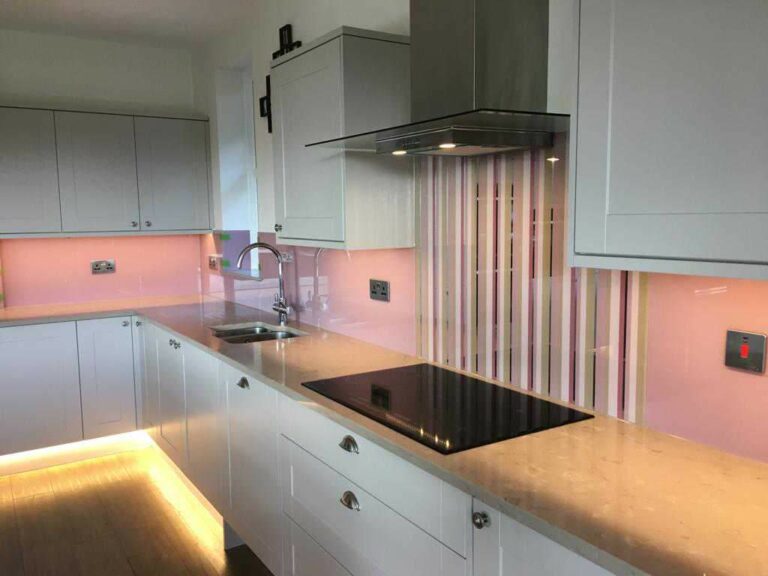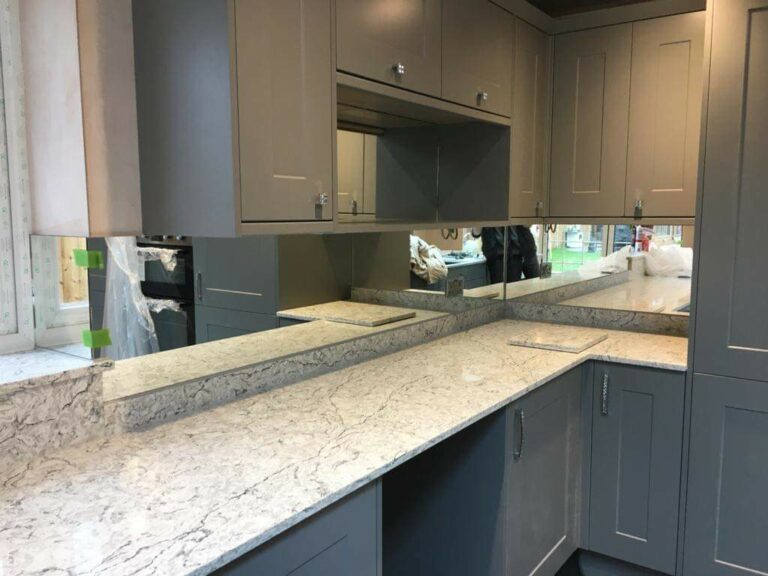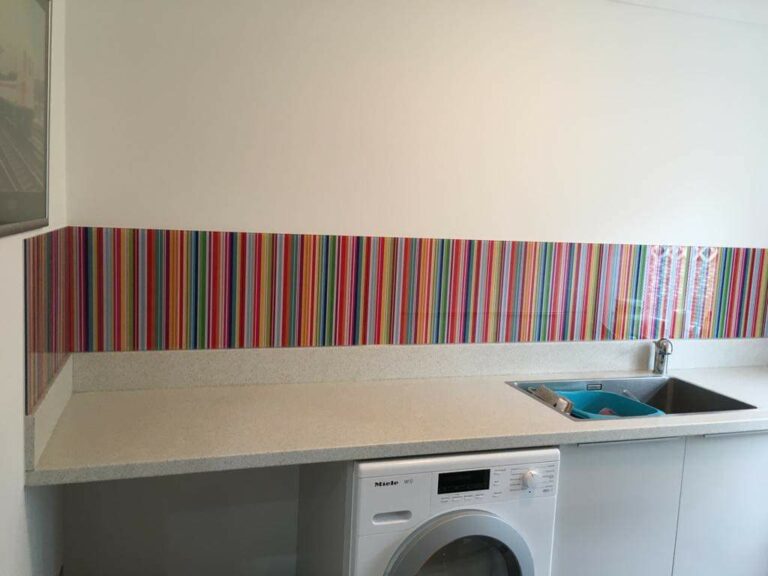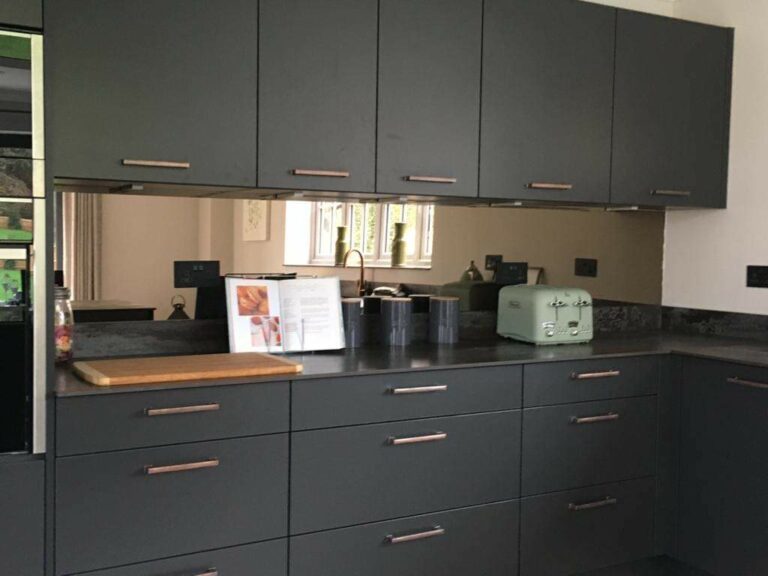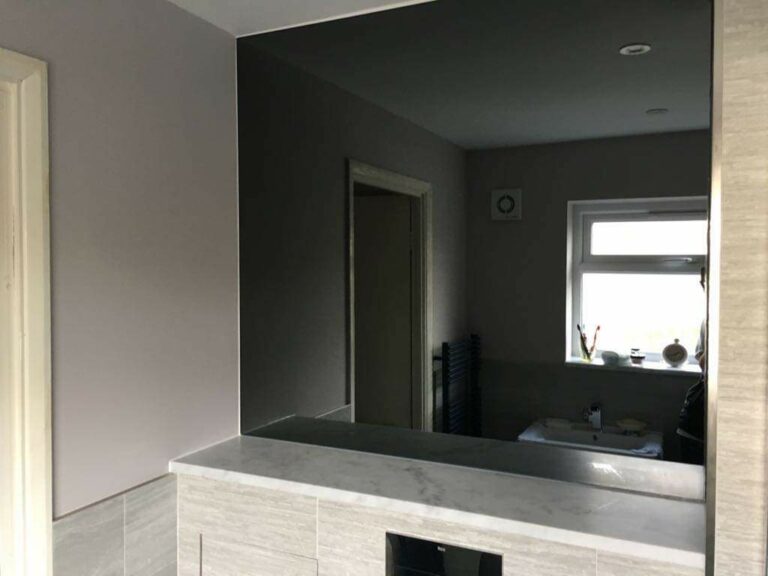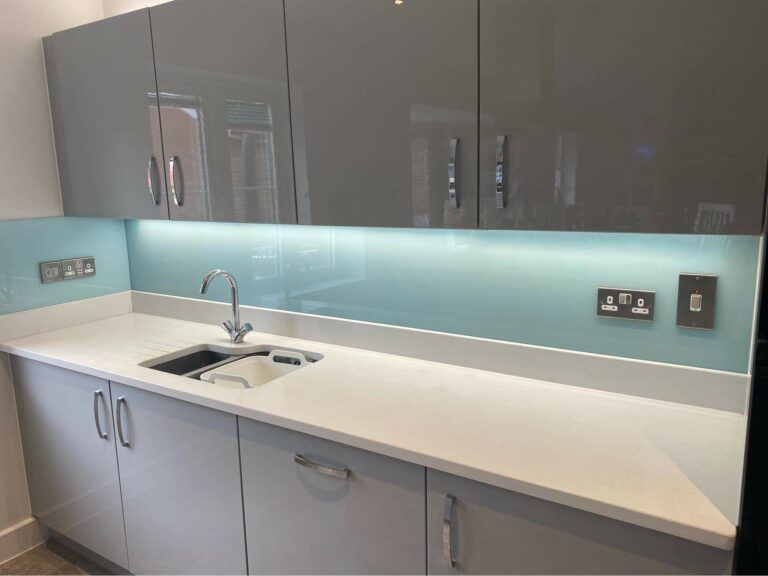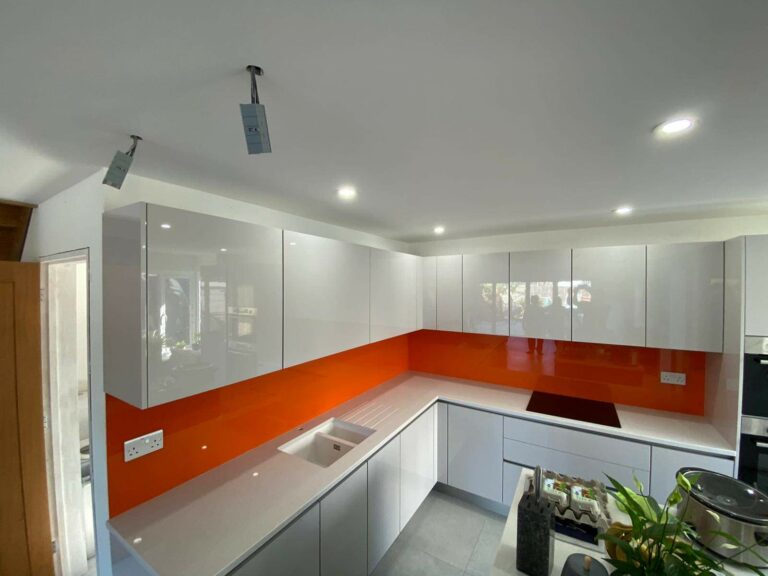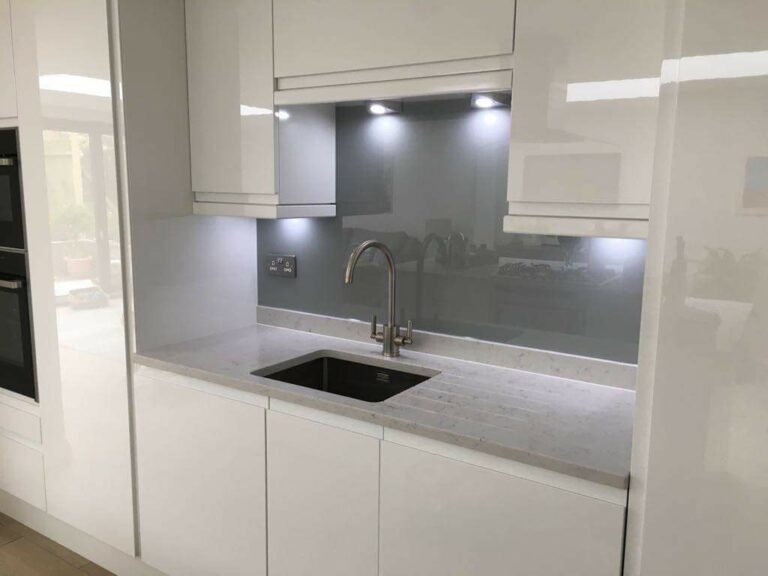 Benefits of Kitchen Glass Splashbacks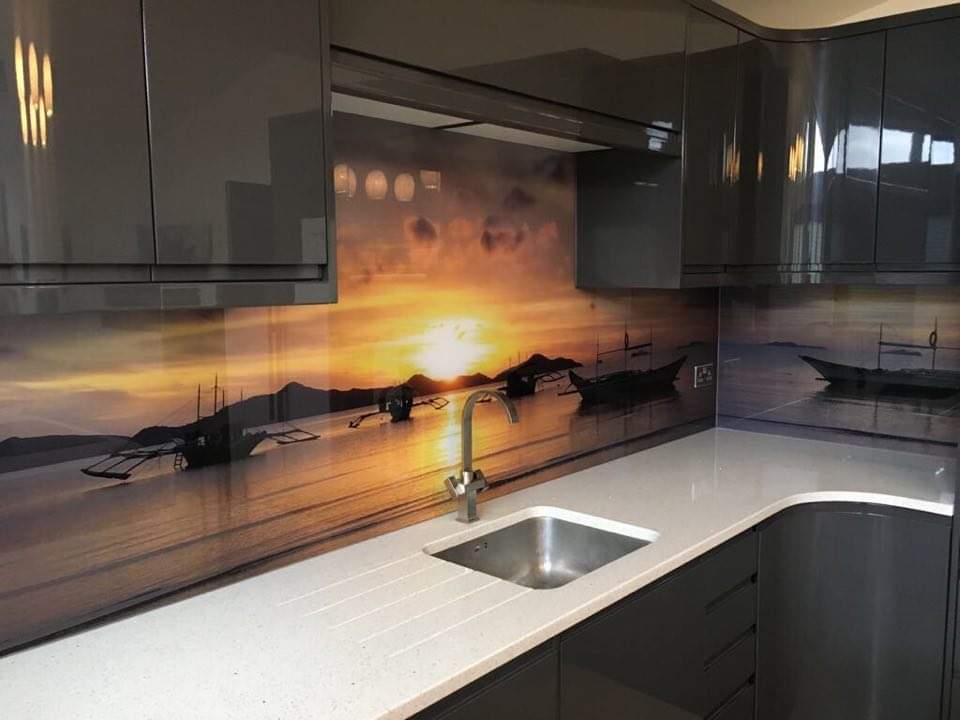 Our kitchen glass splashbacks are a cost effective way to protect your kitchen and bathroom walls from splashes and greasy stains. Whilst offering stunning colour, mirror, design and image options to bring both class and character to any kitchen or bathroom.
With low installation costs and no ongoing maintenance costs glass splashbacks are a great value option for any home. Offering a bespoke solution to ensure a perfect fit is achieved each and every time, no matter what the size or shape of project. Our glass splashback team complete a site visit to template your kitchen ensuring that all sockets and notches are catered for.
Every splashback we install is fully treated and toughened to BS standards where possible, and usually 6mm in thickness, withstanding heat up to 400º Celsius.
Offering a 10 year paint guarantee you can be confident that our glass splashbacks are a reliable solution to choose.
Design Choice
You can choose from over 18,000 colours! (Crown, Dulux, Pantone, RAL etc) to co-ordinate with your homes interior colour scheme. Choose something subtle, contemporary or go bold with vibrant colours or inspirational images.
Perfect Fit
Our kitchen glass splashbacks are bespoke, made to fit each customers kitchen perfectly no matter what the shape. Intricately cutting around sockets and notching under unit panels.
Top Quality
All of our glass, where possible, is toughened glass to BS EN12150 and can withstand heat of up to 400°c, which is ideal for behind a cooker.
Extra long Option
We are one of the only companies in the UK to offer extra-long single piece splashbacks - which can be over 4 metres in length
Long lasting
A quality kitchen glass splashback will last for many years and still look as good in years to come as it did on day of installation. Unlike painted or tiled walls there is no ongoing maintenance such as repaint jobs or cleaning grouting joints.
Hygienic and easy to clean
With no grout lines there is nowhere to harbour any germs, and our glass splashbacks are easy to clean with just water and a soft damp cloth, or you can use any normal household cleaners and it will not effect the finish.
Interested in some kitchen glass splashbacks?
If you are interested in having any of our quality kitchen glass splashbacks installed, get in touch now to get a quote or discuss how we can help to transform your kitchen or bathroom. Drop us a message and we'll be in touch with you within 24 hours to get your process underway.
Start The Process Now
Why Work With Us?
If you are interested in having any of our quality kitchen glass splashbacks installed, get in touch now to get a quote or discuss how we can help to transform your kitchen or bathroom. Drop us a message and we'll be in touch with you within 24 hours to get your process underway.
We Provide Assured Quality
We Aim To Make Things Human
We Are A Trusted Brand
We Are Specialists
We Support Small Businesses
Further Questions?
If you have any questions at all about any of our existing or potential quality Home Statement products or services then please get in touch.
Get in Touch