Statement Overview
Looking for a quality dining table or coffee table with a difference? Bored of the standard designs available in the shops or online retailers? Our bespoke epoxy resin river tables are:
Made to measure
Handmade in the workshop
Unique in a design, colour and style of your choice
Whether you are looking for us to utilise some specialist kiln dried wood that you have purchased yourself, or happy for our designer to select some suitable pieces after consultation with yourself, we can make a stunning epoxy resin river table which will be an amazing Home Statement.
Epoxy Resin river tables – Sizes
We can create the table in any size that suits your space, maybe a 1.2m epoxy resin river coffee table to enjoy in your living area or a 2m – 3m epoxy resin river dining table in your open plan kitchen diner. Whether you would like us to produce just the table top for you to fix to your own sourced table legs, or for us to create a bespoke table from scratch, our designer can help to realise your vision.
Epoxy Resin river tables – Woods
Wood is one of natures most beautiful materials, and combining with epoxy resin it gives us the ability to preserve and show off it's best attributes, from it's different grains to the unique live edge of each piece. Where some wood pieces that look rotten and full of holes maybe just discarded by most furniture makers, we welcome them, as it adds even more character to the statement piece, where you can sense the story of the wood during it's lifetime. Popular resin river wood options include Walnut, Oak, Elm and Yew, each giving a distinct point of difference to the table due their different characteristics.
Epoxy Resin river tables – Colours
Choose the colour of your own epoxy resin river or ocean, taking your preferred colour to match in with your home or business's colour scheme, and add in stunning effects within the design that will give you that statement piece to be proud of. Maybe a cool blue to represent an actual river, blood or ruby red to make a bold statement, luxurious translucent Jade green, classic black which co-ordinates with pretty much anything, or keep its natural clear colourless state to allow the natural light to flow through the table and highlighting the beauty of the wood within.
Our epoxy resin river tables not only look like pieces of art but offer a functional surface that can withstand the usual daily use in any home. Wow your friends and family with a design that either stands out, or compliments the designs already in your home, and brings a touch of style and luxury to your home or business.
Epoxy Resin river tables – Service coverage area
The workshop is based in North Kent however we service Kent, London, Surrey, Essex, Sussex and parts of all surrounding counties. For a map of our coverage area please visit our Google business page.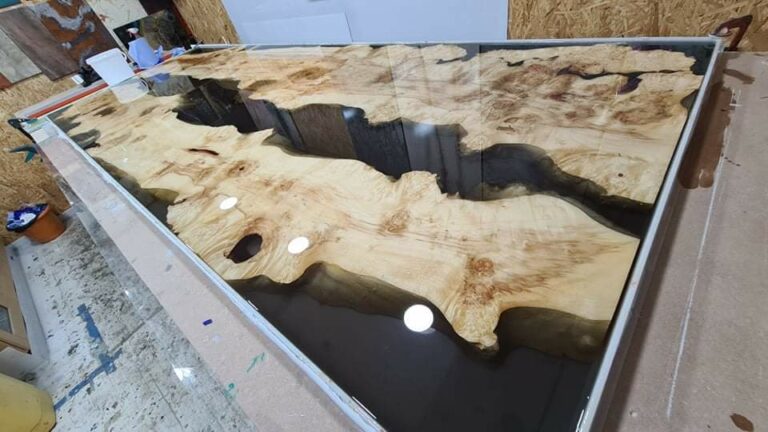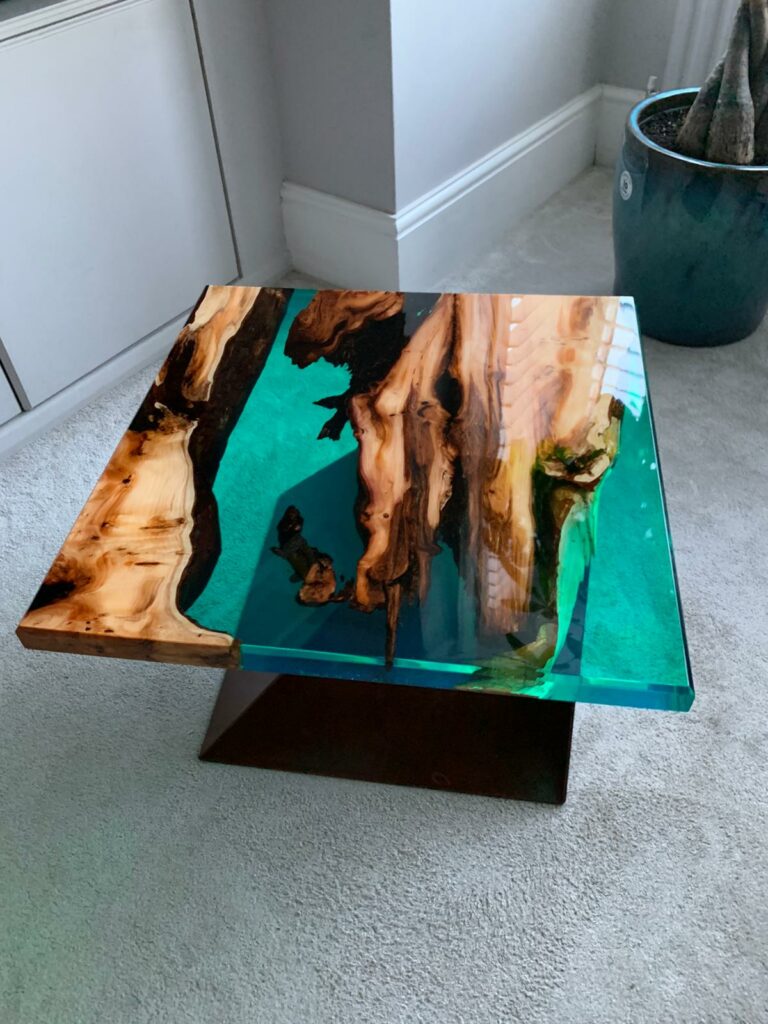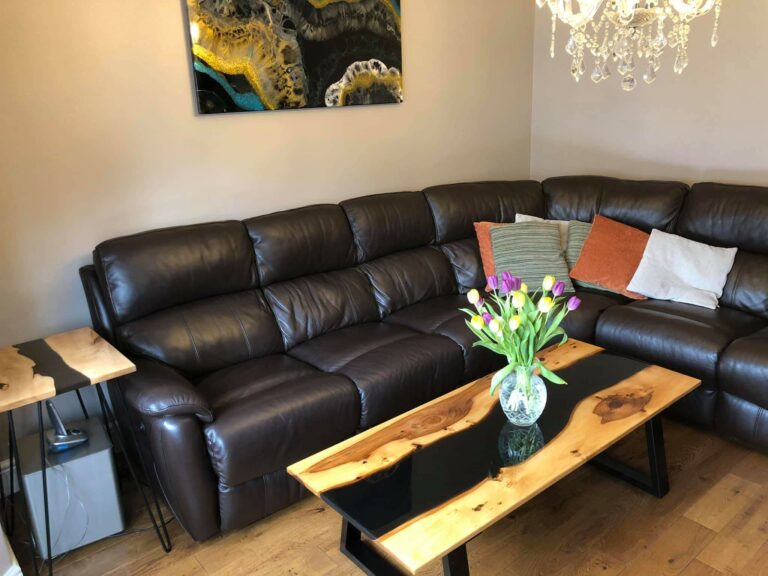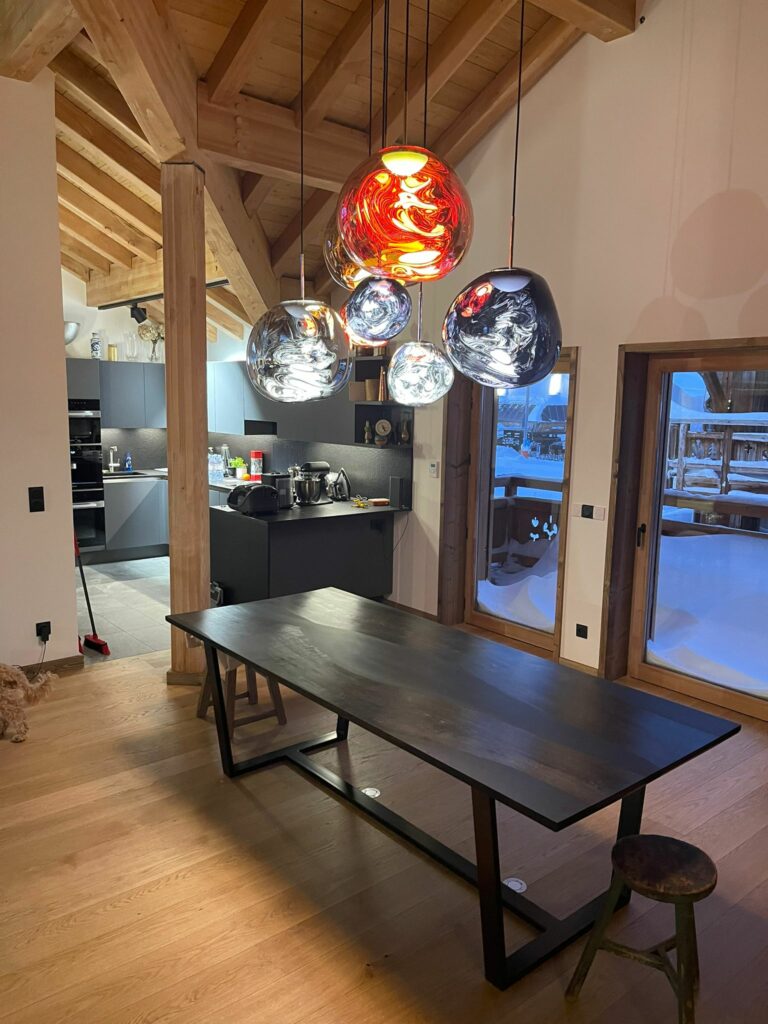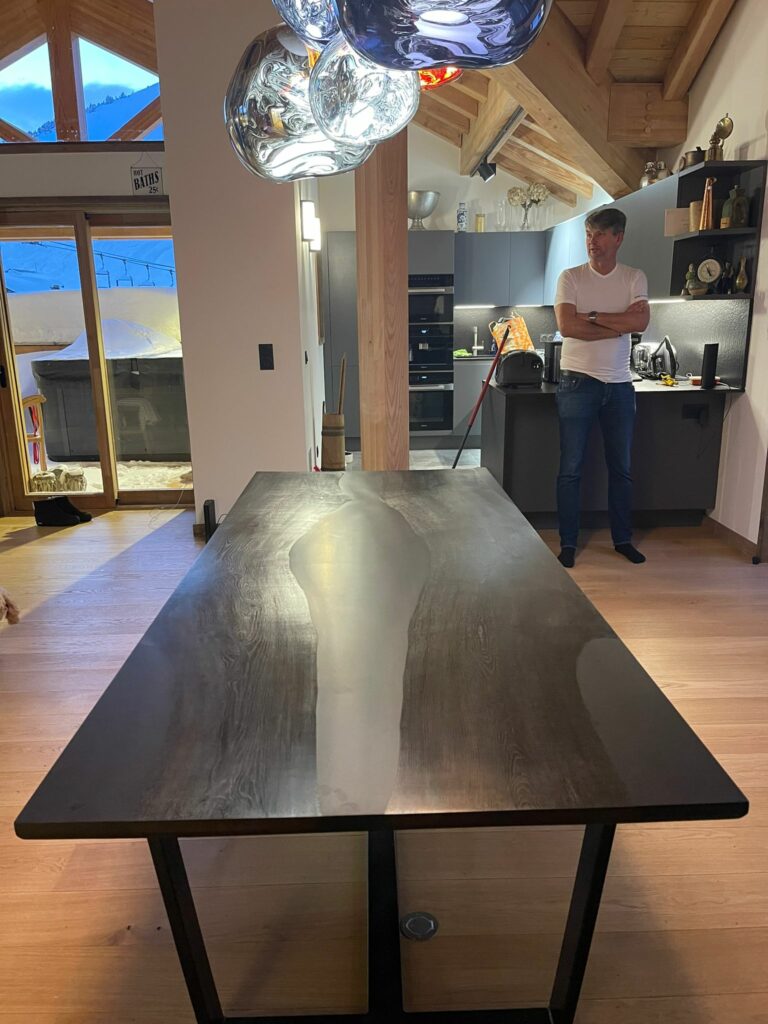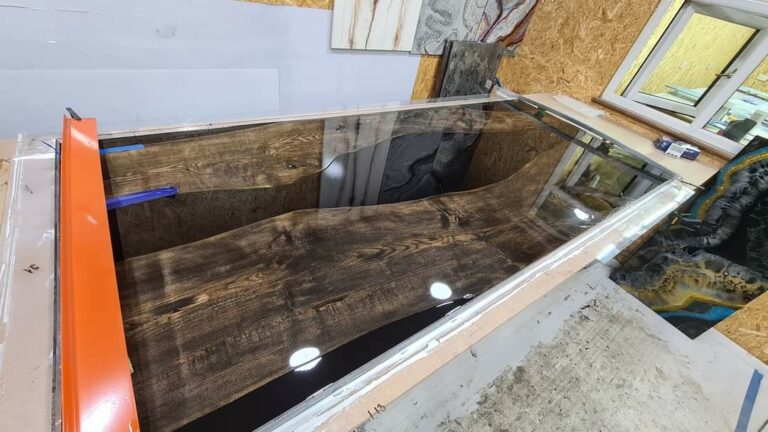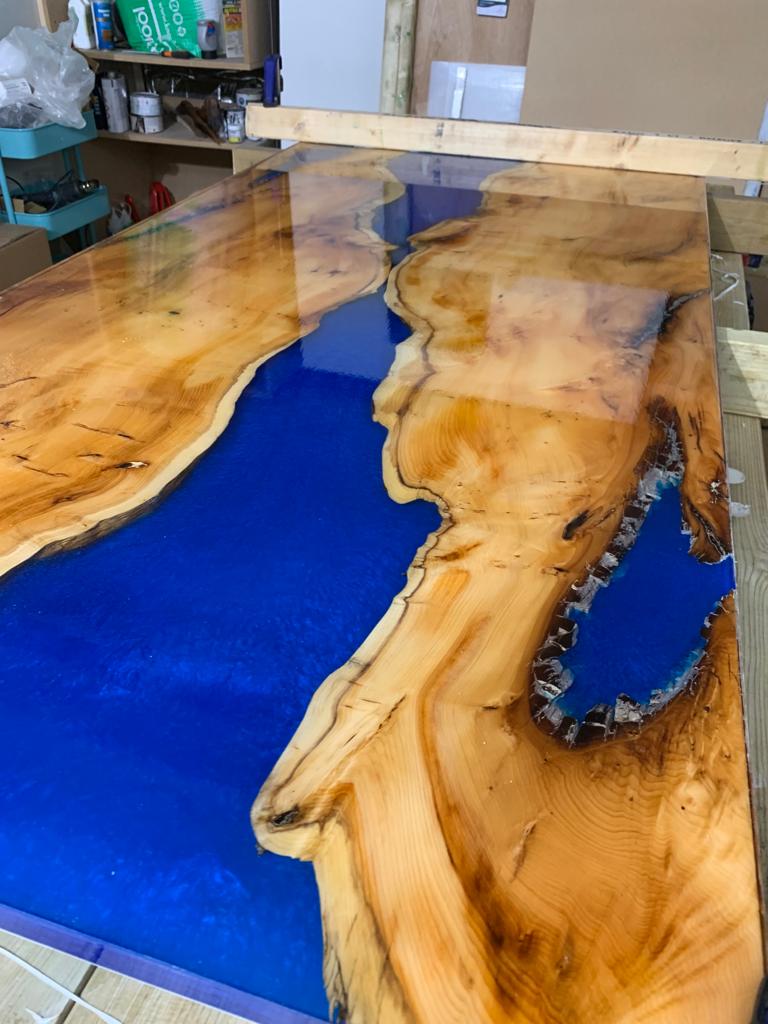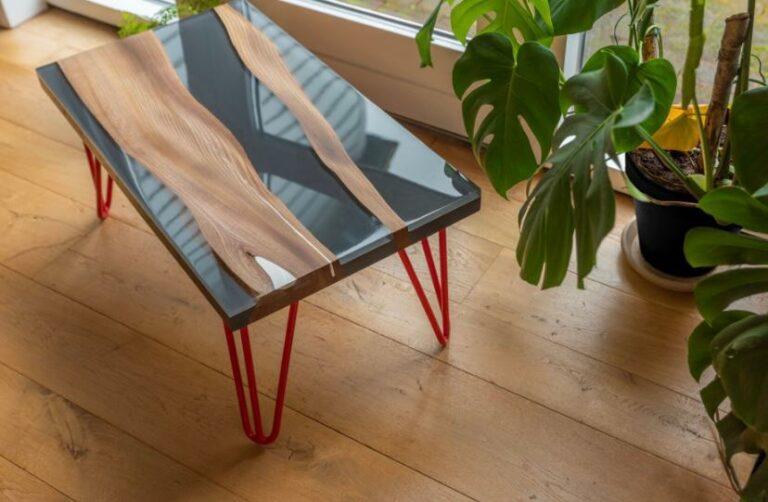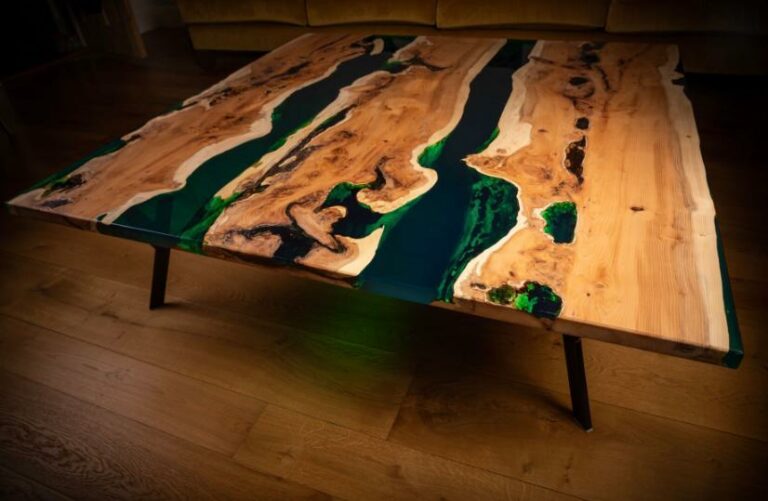 Benefits of Epoxy Resin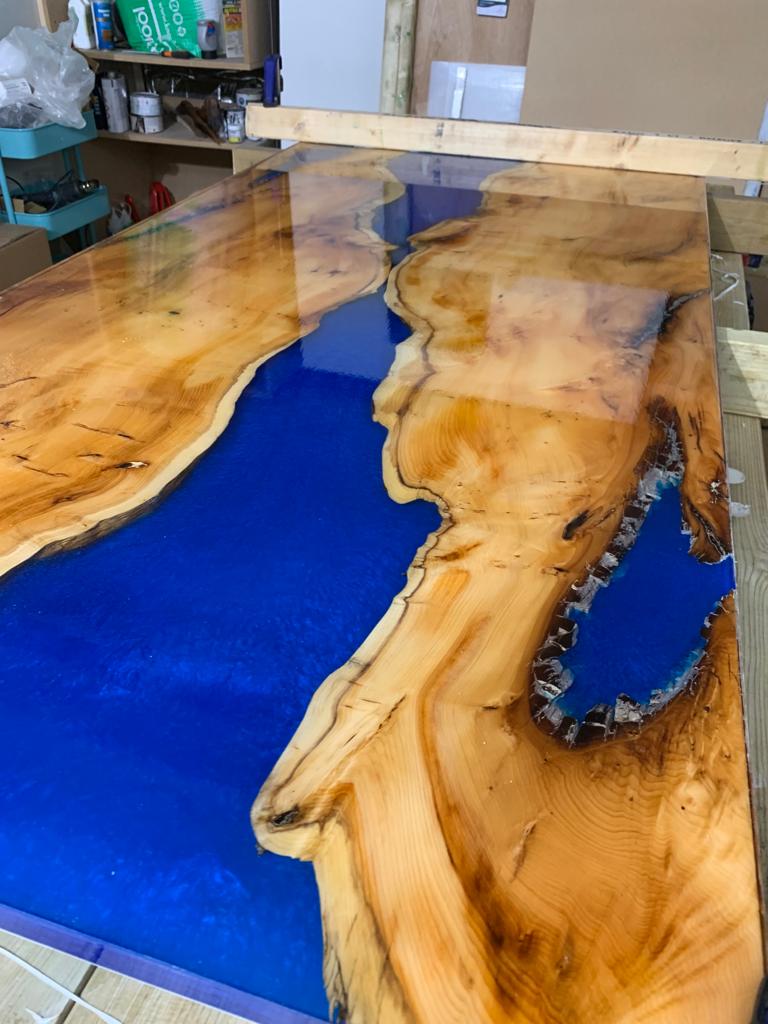 Epoxy resin is becoming more and more popular. It is a versatile product that has a variety of uses in both the modern and traditional home and everyday use. It is created by mixing two components that are matched to each other. If the liquid resin is mixed with a hardener, a chemical reaction is set in motion that usually lasts several hours, but results in the product curing and turning into a solid state. Then combined with other materials such as wood and aggregate, and you have fantastically strong and robust products such as worktops or driveways with an amazing finish.
Combine this with the skills of our highly rated and sought-after designer and you have outstanding designer products that would be fit for any high-end homes, and for those customers that are looking for something of quality, unique and give personality to their home.
One of a kind
Bring personality, style and character into your home. Every product is unique, so you will be guaranteed to be the only person on the planet to have your design.
Endless design
The designer can match any colours from within your homes interior colour scheme. You can control the depth and strength of design, choose something natural, contemporary or go bold with stunning colours and design effects for maximum impact.
Choice of finish
You pick the finish to suit your taste or needs. Options of low sheen matt (super scratch resistant), gloss sealer, of high sheen "Super gloss" (not recommended for high traffic areas).
Durability
Epoxy resin is much stronger than other materials, its shock and water resistance makes it an ideal product for everyday use within the home. The heat resistant properties means that it can be used safely as a splashback behind your kitchen stove.
Food friendly
Epoxy resin has antibacterial properties meaning that it is safe to eat or prepare food on making it an ideal surface to use within the kitchen area.
Easy to clean
Epoxy resin creates a beautiful surface that is easy to clean with just water and a soft damp cloth, or any non-alcohol / spirit based cleaners.
Interested in an epoxy resin river table?
If you are interested in our bespoke epoxy resin river tables and would like a quick quote, or to discuss how we can help transform your home with our unique resin designs, then drop us a message and we'll be in touch with you within 24 hours to get your process underway.
Start The Process Now
Why Work With Us?
If you are interested in our bespoke epoxy resin river tables and would like a quick quote, or to discuss how we can help transform your home with our unique resin designs, then drop us a message and we'll be in touch with you within 24 hours to get your process underway.
We Provide Assured Quality
We Aim To Make Things Human
We Are A Trusted Brand
We Are Specialists
We Support Small Businesses
Further Questions?
If you have any questions at all about any of our existing or potential quality Home Statement products or services then please get in touch.
Get in Touch