Statement Overview
Looking for stunning quality glass stair balustrades or glass banisters?
We supply and fit bespoke glass balustrades, glass stair banisters and glass balconies. Serving Kent, London and the South East.
We are confident that we can beat our competitors on price. All our glass balustrades and bannisters are custom fitted to your exact specifications.
Our glass balustrade service?
We can provide a variety of stunning balustrade system options to ensure we can realise your vision or desired glass balustrade look, from the traditional wooden or chrome post and glass system using clamps, to the more luxurious, sleek appearance of the 'post-less' glass balustrades option using a track or shoe system. Or another very popular option is the frameless glass balustrade system that is fixed to the side of the stair stringer using quality chrome or brass effect stand offs.
Our bespoke glass balustrade service offers:
Made to measure service for a perfect fit
Choice of many glass balustrade system options
Modern chrome or traditional solid wood framing options
Our professional, bespoke glass balustrade and glass banister team have over 20 years experience in the industry. Offering a friendly, personal service, we can organise a quick remote quote from just photo's of your existing stairs, or plans if it's a new stair installation. If you are happy with the price then the team will visit to check your measurements and create templates of the areas before putting into production. Once they have been manufactured the team will then return to install your quality glass balustrades ready for you to use immediately.
Offering a 10yr guarantee on all glass balustrades should give you confidence that what you will be buying is of the highest quality and you should never need to replace.
Where can glass balustrades be used?
Staircases – add a touch of class and sophistication to your staircase balustrade that serves the primary practical purpose of being a safety barrier. The transparent, laminated glass helps create a modern reflective statement for your home or business. Our professional team can add base and handrails in various materials to complete the look.
Balconies and landings – both indoor landings and outdoor balconies can benefit from a glass balustrade, and not just for safety and practicality purposes. The transparency and easy light filtration will contribute to a sense of openness and space, allowing you to fully enjoy the view
Mezzanine floors – a popular space solution for many modern home and businesses, mezzanine floors also require safeguarding with the addition of barriers. Glass balustrades are the ideal option, allowing amazing views from the mezzanine level to the areas below.
Decking and garden terraces – glass balustrades offer stunning safety or visual barriers in the garden too. Whether to protect against the risk of falling from decking or raised terraces, or to separate different parts of the garden area or walkways, they offer a sleek safety solution that doesn't interrupt your outside views, giving your garden a seamless, open-plan feel.
Our professional bespoke glass service including glass balustrade installations is based in Kent, however as well as Kent we also cover London, Surrey, Essex, Sussex and parts of all surrounding counties. For a map of our coverage area please visit our Google business page.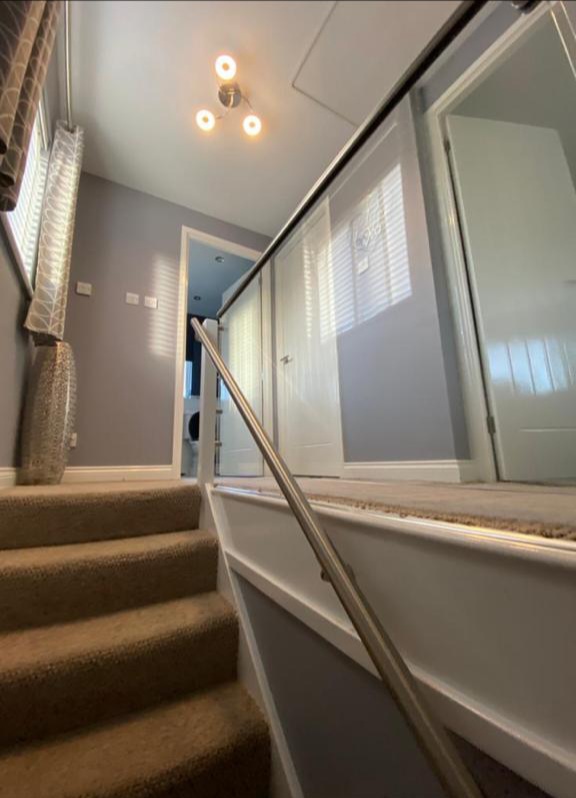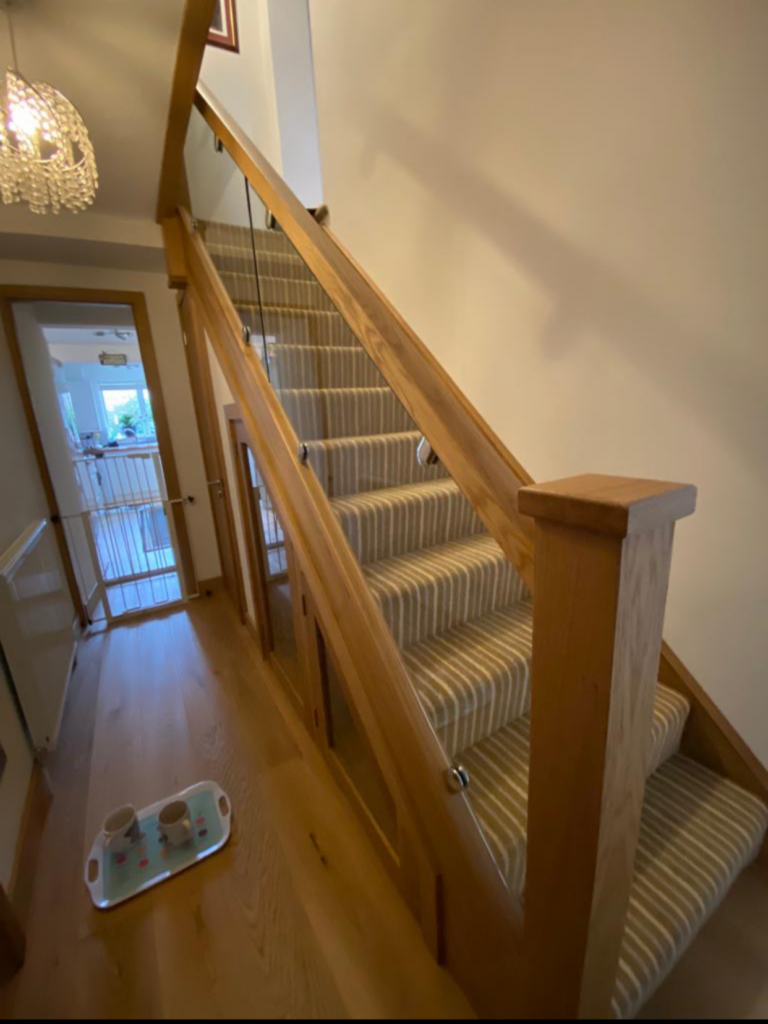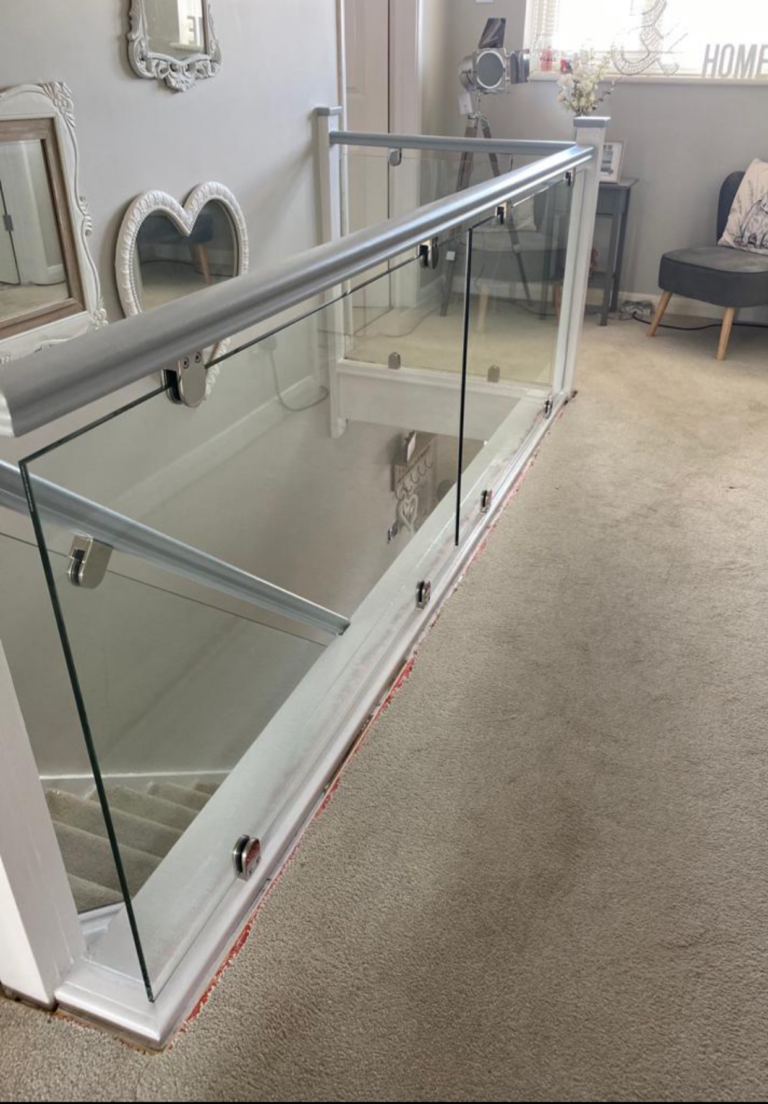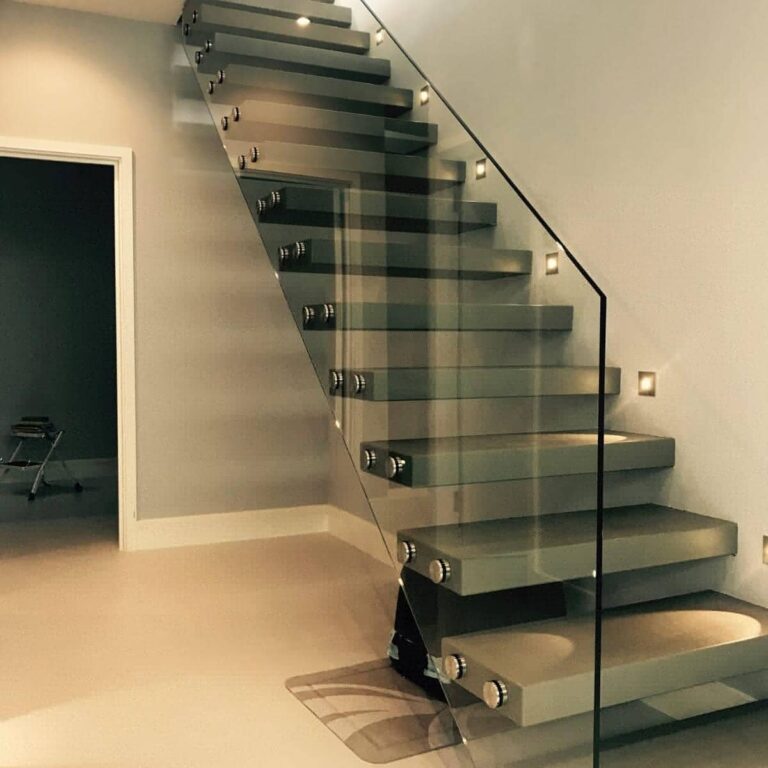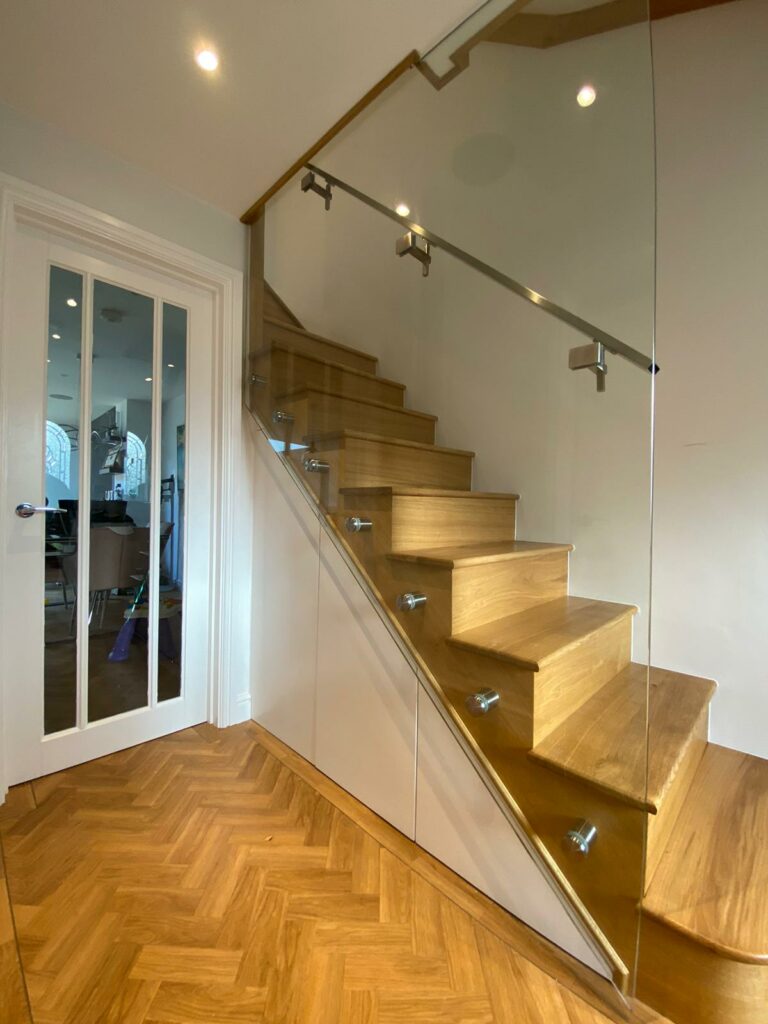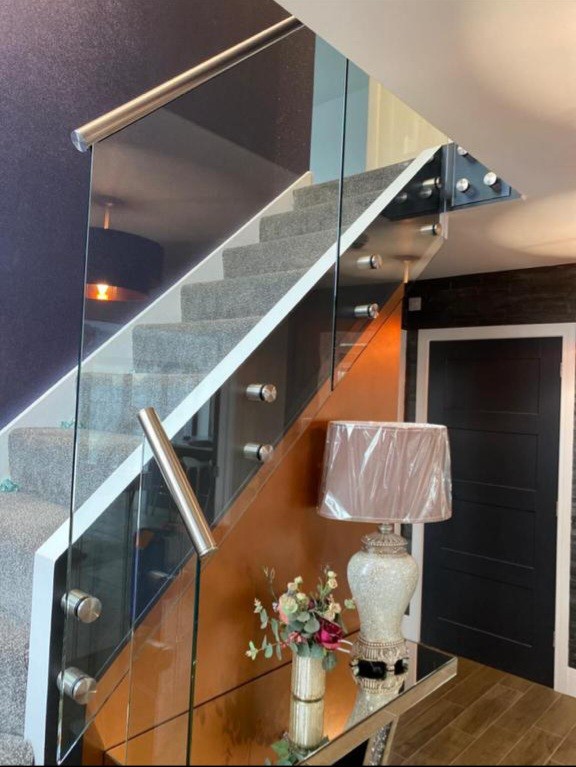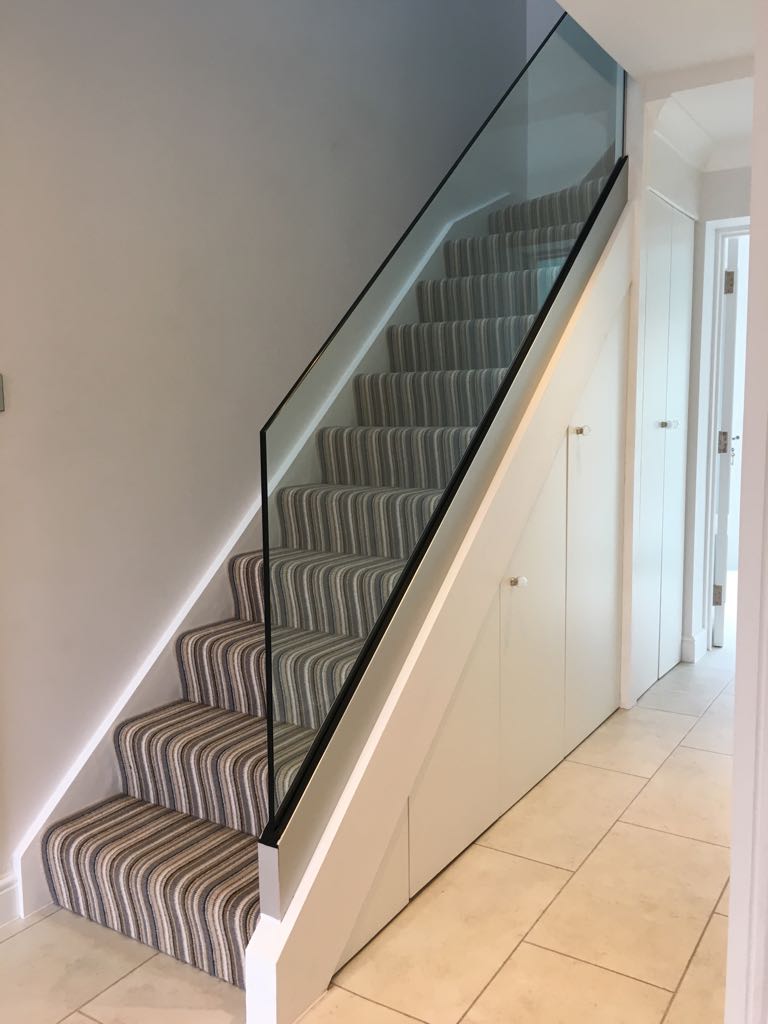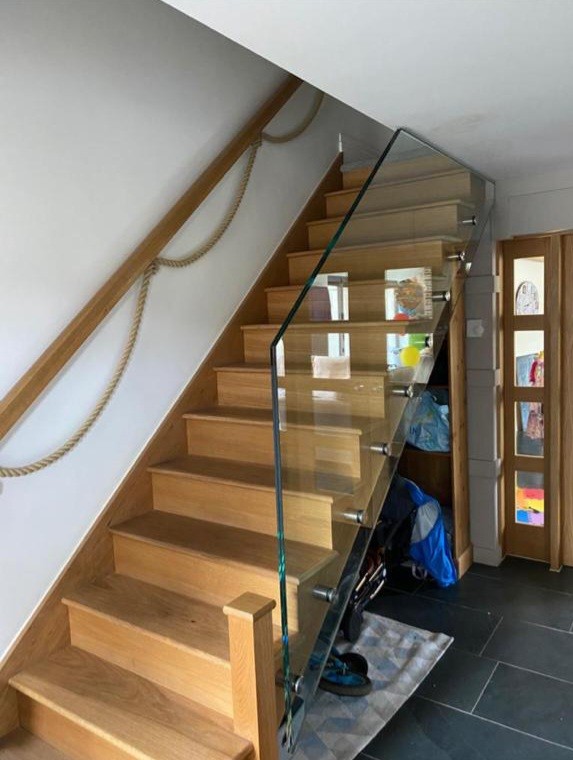 Benefits of a glass balustrade installation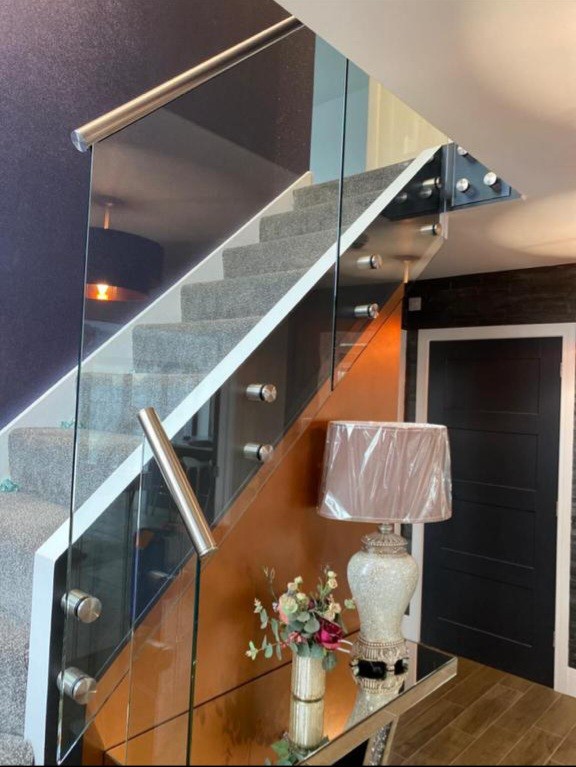 There are so many benefits to this versatile product. Our glass balustrades are made bespoke to ensure a perfect fit for your stairs and landing, and come in a variety of systems to suit your needs or style preference. Popular traditional style options include glass balustrades with soft wood or more expensive solid oak, or metal posts and handrails. However the more modern option being the frameless glass balustrade system with track or side mount fitting and optional chrome handrail.
Made from toughened glass, producing a practical, safe and secure balustrade option, but with the added benefit of style, elegance and light reflective properties to name but a few reasons why a Home Statements glass balustrade installation is a perfect solution to your balustrade needs. However, please see below a few more key benefits of glass balustrades to help you decide if this option is right for you.
However, if you have any more questions about glass balustrades or any other bespoke glass products then please get in touch and we would be happy to help.
Reflection of light
Unlike other stair balustrade options such as wood or metal, glass balustrades have the added benefit of both reflecting and letting through light, which creates a better lit environment for any home or business. Creating a better, more positive atmosphere, often meaning more natural light is present and therefore less artificial light is required.
Stunning modern appearance
In this era of style conscious home owners and property developers looking for that modern, contemporary look, glass balustrades offer the perfect solution to achieve this. It's sleek, straight lined, light reflective surfaces generally ticks every box on the modern homes checklist. Not only does glass have a wonderful, modern appearance, but it's also an excellent counterweight to some of the rustic elements that are included in modern décor.
Perception of increased space
Using glass balustrades also gives the illusion of more space. This is especially true if the balustrade is made with clear, see through glass as opposed to the opaque privacy screening or tinted glass also available. As your eyes are taken through the glass it appears the additional space is part of your overall usable space. As light passes through the glass it also makes it possible to see and enjoy your full surroundings without any barriers.
Multiple system options
There are multiple options available to create the relevant glass balustrade option that you are looking for. Some of the most popular options include: with or without posts, clamps or clampless fixings, multiple glass panes or large single panes, hand rail or no hand rail, all glass option or combined with wood or chrome posts and handrails.
Strong and durable
You may be thinking that glass balustrades maybe fragile or dangerous. Far from it, in fact the toughened glass used is an incredible building material. It is more enduring in the long run than wood and metal and can easily last a lifetime with very little maintenance.
Low maintenance
Cleaning frameless glass railings is easier than steel or wood railings. For the glass you only need a good quality glass cleaner and can wipe down in a matter of minutes. There is no other ongoing maintenance required whereas wooden balustrades may need repainting or re-staining every so often.
Interested in a glass balustrade installation?
If you are interested in having one of our bespoke glass balustrades installed, get in touch now to get a quote or discuss how we can help to transform your living space. Drop us a message and we'll be in touch with you within 24 hours to get your process underway.
Start The Process Now
Why Work With Us?
If you are interested in having one of our bespoke glass balustrades installed, get in touch now to get a quote or discuss how we can help to transform your living space. Drop us a message and we'll be in touch with you within 24 hours to get your process underway.
We Provide Assured Quality
We Aim To Make Things Human
We Are A Trusted Brand
We Are Specialists
We Support Small Businesses
Further Questions?
If you have any questions at all about any of our existing or potential quality Home Statement products or services then please get in touch.
Get in Touch